[Previous entry: "Shears - Monday Night - July 28, 2003"] [Main Index] [Next entry: "Covington Century"]
07/31/2003 Archived Entry: "Wednesday Night, July 30, 2003"
Our Skate, Skate, Skate
On Wednesday Night - July 30, 2003
An almost perfect skate night - - except for one cloud. The big, black one! There was never a group announcements, just a slew of half-dressed-up skaters, sprawled throughout the Carter Center parking lot – asking each other about the extent of other's meteorological expertise. "I just came from Brookhaven and the sky was sunny over there," exclaimed Don R. Others were more confident about the havoc that potential tornado-like weather can play on inline skating. Deb C. and Bonnie B. thought it best to postpone their skate for another day. James M. held out the palm of his hand to finalize his inkling. No words were spoken, just a low grumble that soon turned to a more audible growl.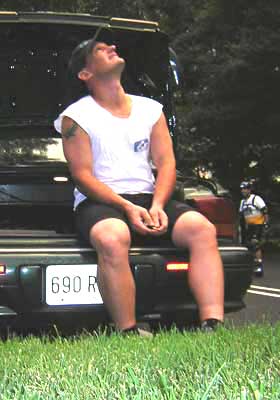 Jeff checks the weather forecast.
Minutes ago it was sunny to the North, South, East, and West.
But he now sees that its cloudy above.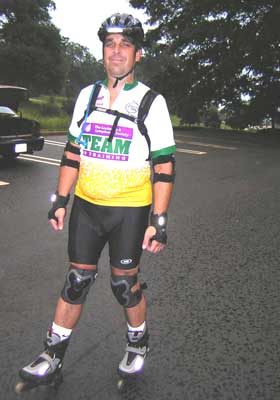 Paul makes contrails in the newly falling rain.
He was one of a number of people who strapped
equipment on and were rearing to go !!!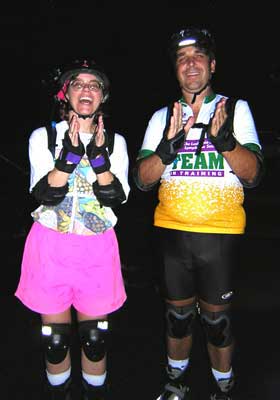 Ann and Paul clap for themselves after making
a final decision that – yes – they were going skating - -
rain or shine!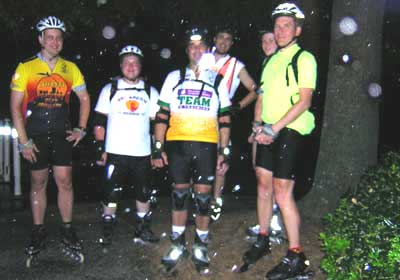 Lisa fearlessly lead a group of skaters to the other side of the parking lot.
As she and her following dashed under a helpful tree - for protection from the
increasingly hard rain - she asked a sincere question to the group of loyal men…
"What do you call it when you have to admit defeat?"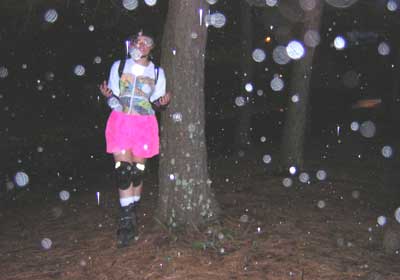 Ann beckons Marc to come in from the now torrential rain.
Her point was well taken.
Replies: 2 comments
Though now a cult classic, "Ooh, ooh, Rethmel" never quite made it to Kasey Kasem's countdown. It's still one of my fave's however.
Posted by Bill Brett @ 07/31/2003 10:22 AM EDT
Jeff's last name is Rethmel.
As in the song,
"Ooh, ooh, Rethmel,
Rethmel of Jeff surrounds you!"
Posted by Sam Fistel @ 07/31/2003 02:39 AM EDT