[Previous entry: "Covington Century"] [Main Index] [Next entry: "Wednesday Night - August 6, 2003"]
08/05/2003 Archived Entry: "Monday Night - August 4, 2003"
Our Skate, Skate, Skate
On Monday Night - August 4, 2003
It might as well have been raining throughout most of Atlanta's suburbs. Large clouds ringed Atlanta. That is – Ringed Atlanta. Wonderful temperatures, next to no wind, and a gorgeous sunset were witnessed from downtown. A fantastic skate night indeed ! Mark Day offered the announcements and reminded us that we'll need to order skin suits and jerseys now, to get em' before A2A. Chuck O. informed us of yet another century type bicycle event that we've been invited to skate in. And James was most happy to join our large group for his second time.
(Slower Skate) There were two skating opportunities, Paul Kennedy, and David S. - - Paul felt lazy and offered an intermediate skate, which left promptly on time. David's slower skate waited for Marc St. Pierre to slam wheels onto his all but vacant old frames. But the group soon got off and skating, leaving the Carter Center parking lot void of chatter. Later, while in the Midtown area, David came to a crossroads in his skate agenda. "I'm sorry I'm so disoriented," he said. "I wanted to go that-a-way, but it doesn't look good. So may be we should go down this way instead." The quite large group of skaters then toured the Georgia Tech campus, got lost in its Student Center bathrooms, and then made its way to the Olympic Stadium. "I just love goin' to Turner," exclaimed David, "It's always so fun!"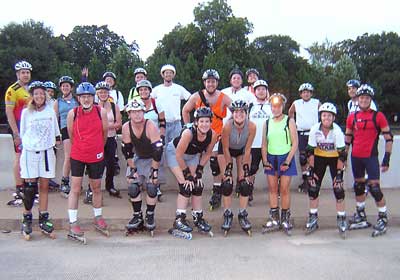 On your mark, get set, and skate, skate, skate!
This group looks fresh, but by the time they went home
for a good night's sleep, they were very tired indeed.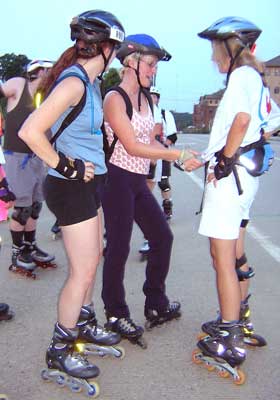 Lisa and Zdenka (from the Czech Republic) are very much
interested in the T-shirt from Russia that Stephanie happily
wears. The front of the T-shirt displays an extensive map of
Russia – all the countless roads that Stephanie had skated.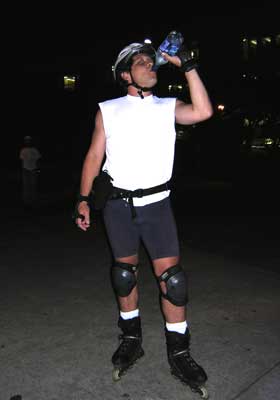 Lee downs a well-deserved bottle of refreshment
after bagging Georgia Tech's most demanding hill.
The GT library couldn't be more rewarding!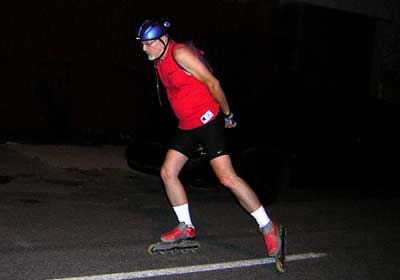 Bill glides effortlessly up Marietta Street.
Skating is completely natural for him.
He's done this type of thing before,
and before, and before, and before…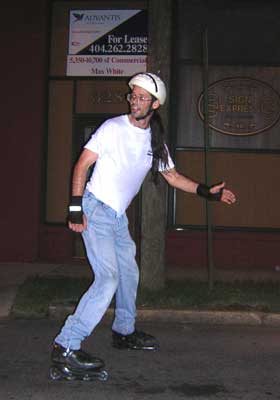 Bob has got SKATEAGILITY !!!
Although he's FLYIN' totally backwards, what you can't
see is that his legs are crisscrossing like electric sheers.
Totally amazing !!!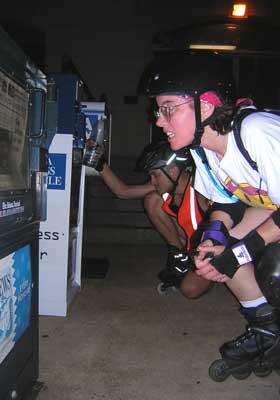 A couple of informed skaters!
Keeping up on the latest headlines offers
Ann and Jeffery great skating gossip.