[Previous entry: "Monday Night - August 4, 2003"] [Main Index] [Next entry: "Brooks Century"]
08/07/2003 Archived Entry: "Wednesday Night - August 6, 2003"
Our Skate, Skate, Skate
On Wednesday Night – August 6, 2003
The rain gods had been purposefully spilling buckets of water throughout Atlanta, throughout the day. It was not until early in the evening that they finally depleted their resources and permitted the sun gods to come-out, in order to begin to dry-up the well made mess. By the time 8:30 PM rolled under the hands of the recently awakened sun gods, it was indeed time to skate! Mims R. and Brenda C. created a whirlwind of excitement about this weekend's Brooks Century, held in Fayette County, and David S. grabbed a large share of the excited pie for a recreational skate. Not to be out done, Mims agreed to lead one at a medium pace. (Yea, Right!)
(Medium Paced Skate) initially headed toward Inman Park. "Wow, look at that big house," exclaimed Elizabeth D, as the group skated down Elizabeth Street and passed the old Candler Mansion. Lisa B. was also excited, but for a very different reason. She was wearing for the first time her new pink boots. After breaking away from the MARTA station, the "medium paced skaters" picked-up speed by taking a non-stop Delta Air Lines flight down Oak Dale Street, en route to the Emory area. Then Uwe B. offered-up some true German transportation, as the pace-lined skaters hopped aboard the German (ICE) bullet train and express-traveled all the way down Briar Cliff Road to St. Charles Ave. It briefly made a stop in Highlands to de-board some passengers, but then proceeded on under the beautiful half-moon and brilliantly lit Martian planet. "I'm feelin' blister's commin' on," remarked Lisa. "My shoes must not be laced-up right."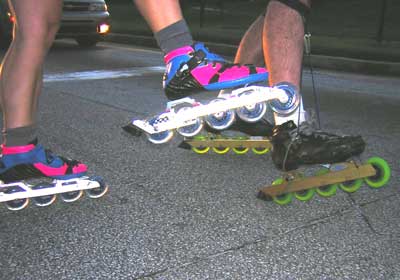 After extensive, and long hours of continuous, non-stop, and never ending communication through Matchmaker.com, Lisa B.'s new pink boots eventually discovered the technical, well-worn, and never retiring boots worn by Uwe. The two pairs of boots were instantly a true match made in heaven, as both are related to extreme longevity, prestigiously found only in the Guinness Book of World Records.
(We all love you Lisa and Uwe… You're near and dear to our hearts! APRR could never have as much character or prestige without you !!! )

(Photo 2)
Oops! The camera's LCD states:
"Warning! You have replaced the dead batteries- with dead batteries."
Replies: 8 comments
Cool,
I can do that...I sent a note to the pres over a week ago and I signed up for the notication for the group skates and have not gotten any emails..
Had to hit the Silver Comet today...
Trying to get back in the groove.
Been a while...
Use to hit it 80 miles a week up in Ohio...
Forgot about the Athens to Atlanta race..we always planned to do it when I lived up north but never made it..
Maybe I can do that short course this year.
bd
Posted by Brown Dawg @ 08/09/2003 09:43 PM EDT
Brown Dawg-
We are wanting to hear from you!
Please manually type into your computer the email address for Marc St. Pierre as listed at the top of this page. Do not click on the email adress as provided, as there may be a complication with use of email addresses in this weblog. Thanks.
Posted by Marc @ 08/09/2003 07:22 PM EDT
Brown Dawg, if you want info on APRR, then you may request such through an email to msp123@aaahawk.com, as stated at the top of the weblog page.
Posted by xyz @ 08/09/2003 07:07 PM EDT
A virus?
That is ludicrous....
bd
Posted by Brown Dawg @ 08/09/2003 03:12 PM EDT
DO NOT CLICK ON "BROWN DAWG" BELOW. IT IS MOST LIKELY A VIRUS !!!
Posted by m. @ 08/08/2003 09:02 PM EDT
Oh My Goodness Marc! Now everyone knows how hot hot pink my new skates are!! They truly look lovely next to Uwe's! I will bring you some fresh batteries next time.
Posted by Lisa Bongiorno @ 08/08/2003 05:12 PM EDT
I have been trying to get info on your group...no one responding...
What is up with that?
Looks like a good group.
r
Posted by Brown Dawg @ 08/08/2003 02:11 PM EDT
Wow, Marc! You're really getting the knack for making nice weblog entries. Keep it up!
Posted by mims @ 08/08/2003 08:53 AM EDT