[Previous entry: "Brooks Century"] [Main Index] [Next entry: "Wednesday Night - August 13, 2003"]
08/11/2003 Archived Entry: "Monday Night - August 11, 2003"
Our Skate, Skate, Skate
On Monday Night - August 11, 2003

There were so many inline skating events announced that they'd take up this entire weblog entry. Beth D. pointed out the Big Apple Roll, in NY, and Mark D. seconded the enthusiasm. He offered us a tip that we can get by on a $500 shoestring budget, on just about any one of these out of town events. I soon believed to myself that if I traveled to all of them - I'd perhaps be offered a discount. Heck with the discount, LET'S JUST GO !!!
David S. led his group on a Preparation Tour for his up-coming Cow Art Skate. "Wednesday should be a lot of fun," he hinted to us. But it was Paul Kennedy who swept us off our boots with a "kinder, gentler adventure skate." Adventure was not as much of a summary word as "Eventful." We skated all over the place (and only Paul had the map). "I've no clue where we are," surrendered Erik M. It became even more eventful once on known ground at GA Tech. "Look, look at this audience! - This is increadible !! - We've never had anything like this before !!! - They're going crazy clapping and cheering for us...," was soon heard from APRR while near the Student Center. But "Eventful" was still the main dish, as skaters tasted the ground everywhere. Even George W. took a spill. "I've never been down that one before," he justified to us. But by the end of the Paul Tour, the Southern Gentle Man was quick to spell-out that the night's adventure was "GRRREAT !" (with 3-R's).
(This is a special weblog entry, as there were so many photos to be shown. Below is a mere fraction of the ones that turned-out! )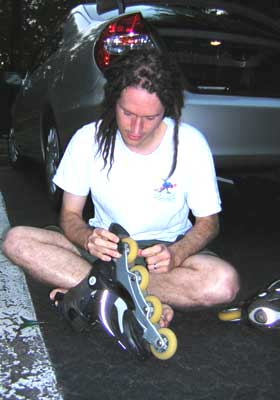 Greg ensures that his equipment is fine-tuned.
He keenly knows that skating gear maintenance is
almost as important as his precious, young son - River.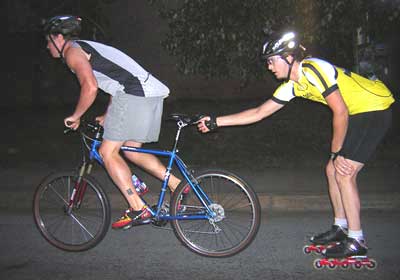 Russell, you're cheating! We know you are...
We're sure of it !!!
Here it is folks, the newest definition of drafting...
but then again, Carl doesn't mind.
Anything to make Carl stronger -
is exactly what his lady ordered.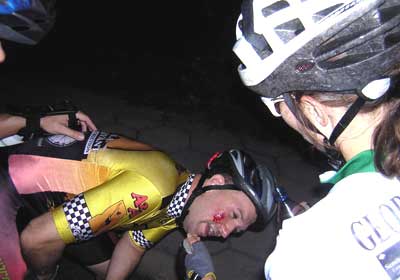 Erik learns the consequences of eating too much asphalt pie.
Cindy adds some sweets to butter-up his spinning head,
but it's basically too late. He's already got an aggregate stomach.
Careful Cindy, if he tosses his cookies, they'll be chunks!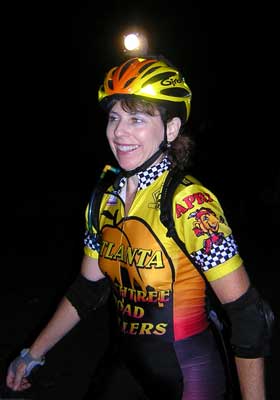 There's not a guy in this world who wouldn't want to put Brenda
in his pocket.
And there's one thing about Brenda that most every guy already knows -
that her smile is almost as big as her heart.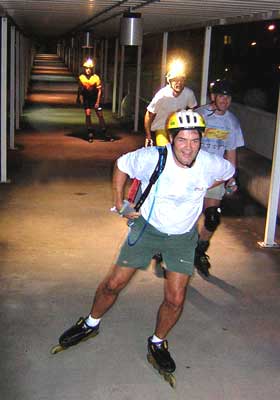 If there's a true reason why we skate at night, this is exactly it !!!
There's a certain amount of pleasure in crossing over MLK Jr. Drive
via the covered pedestrian bridge - the one prohibited to skaters -
and Mark, Marek, Uwe, and George each know about this pleasure
all too well.

An organized skate requires an organized break,
neither of which regularly occur on a Paul Skate.
If I had my big camera, we'd make a postcard
out of this rare moment with Paul.
Just look for the golden halo and you'll find our
blessed & worthy leader.
Wonderful job tonight Mr. Spin Doctor!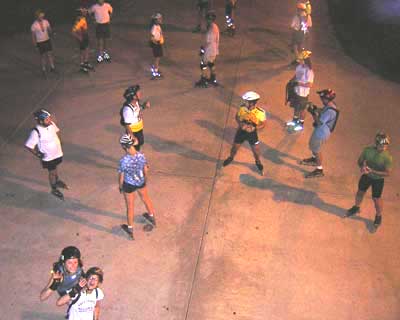 Oh, Hey there Lisa and Nancy!
These two lovely ladies are "checking-up" on a cute,
but handsome young man.
(Georgia Tech Student Center)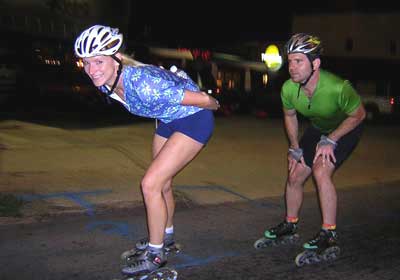 This is THE photo from which to base an entire book
on speed skating at night! No Doubt !!!
Both Beth and Bill are steadily traveling over 20 mph,
down the heart of Peachtree Street.
Though you'd never know it from their fine-tuned grace.
But then again, we'd all EXPECT Beth & Bill to author this book.
I'll want mine to be an autographed copy.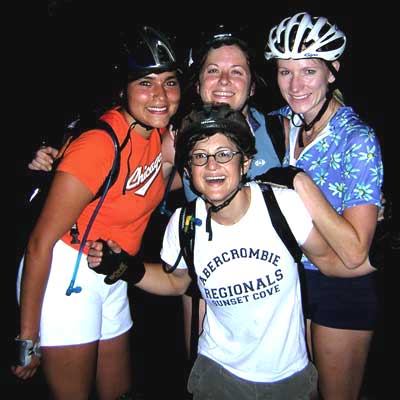 Ladies & Gentleman and children of ALL ages...
Let me present to YOU the Happy Happy Quadrettes.
Please give them a warm & embraced welcome as THEY show to you
an energy like NO OTHER! Sit back in your seats and relax, cauz'
when they get finished here tonight, they'll want-ta turn around
and DO IT AGAIN and AGAIN !!!
- Paula, Lisa, Beth, and Nancy (in front).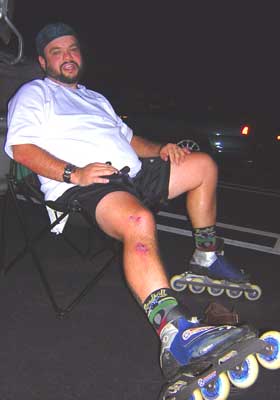 Our own Jim skated to Baskin Robins for a double dip of "I scream."
By the end of the night, you could easly easily tell that each scoop
came with lots and lots of raspberries. (Note: 1 scoop = 1 fall)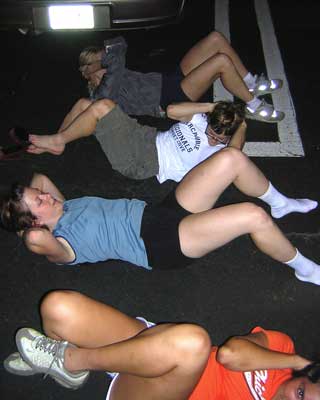 Yep, I was right. Although the Paul Skate is well over
(and most everyone has already gone home to wet their bed),
the Happy Happy Quadrettes are far from finished.
(I'd personally like to think that they're doing all of this for us men -
who're from the nearby Planet Mars, tirelessly watching
these Venus beauties from straight above.)