[Previous entry: "Monday Night - August 11, 2003"] [Main Index] [Next entry: "Lap & Lei"]
08/13/2003 Archived Entry: "Wednesday Night - August 13, 2003"
Our Skate, Skate, Skate
On Wednesday Night - August 13, 2003


(Image by David S.)

The Carter Center parking lot became much like a Wild Game observation stand. Tourist-like skaters anxiously searched in all directions for unique cows – as if having freshly stepped off a guided tour bus. No one dared to realize that we'd need to tromp through the urban tumbleweed to find em.' Clayton L. warned of young urban locals, who have been known to set traps and throw objects at us. We thought of the ol' days and of scary Indians. No problem. We'll just gather-up cow chips along the way and toss em' back at the bastards. And Jenny R. gave us the scoop that we can now send personal adds for A2A participants – to wish them luck or bit of encouragement. Her only request was that it stay "clean." (Ok ya'll, let's not forget to please the lady and take off our skate boots and spurs after tromping through this-a-here cow pasture.)
With such a long wagon train of skaters, David S. announced his plan to split us ranchers into two different pioneering groups. David's "Lazy 'S' " group was to go "straight there," along his normal route to Colony Square. And Beth D's faster, "Circle 'T' " group was to meander its way to Ranch Rendezvous. But once having arrived, it was to David's dismay that two prospectors, dressed in city-type suits and wearing tall hats, informed his Lazy 'S' group that a gathering of skater types had already been seen scavenging the area – but were long since gone. So with a clanging of the cowbell, the disappeared Circle "T" cowboys and cowgirls came-a galloping back, and we all circled around the chuck wagon for a feast of colorful stakes and some good-ol' cow tipping fun. Mmmmm, this art is good !
The link for information on the Cow Art Display is as follows: Atlanta Parade of Cows 2003



(Yet another special entry – with lots of photos. Sorry Brenda, the ones of you "Jockey Riding" the "Big Bull" for us didn't quite turn out. We could tell that that one gave you great pleasure.)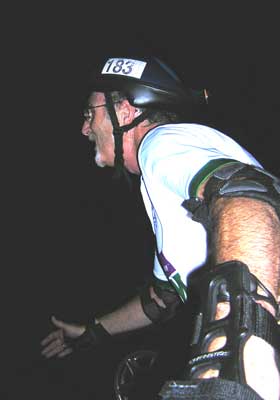 Donald had become the point man in our search for cows.
We owe much to Donald for his self-sacrifice to us while our
cow patrol platoon hurled down the 9th Street Hamburger Hill.
"This hill was made to go up, not go down,"
later remarked one of the lady pioneers.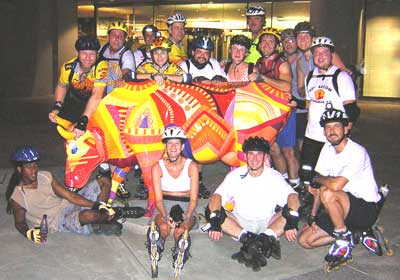 A bittersweet victory for this gang of cowboys and cowgirls.
The first cow we sighted, and now we've got her by the horns.
It didn't take a long rope to lasso this baby, nor did it take the
use of matador needles, it just took the implementation of a well
sought-out strategy by Rodeo Dave.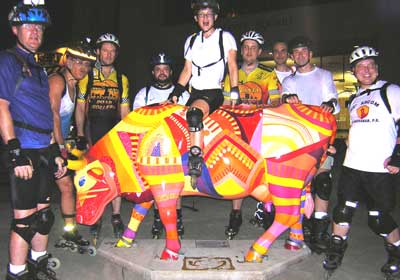 This Ranger Cowgirl and her cowboy entourage had staked-out the range
long before their counterpart skaters ever made it to Ranch Rendezvous.
The cow herd was no match for this yipin' an hollorin' gang of marauding
bandits. Cow by cow succumbed to the aggressive like skaters as if being
relentlessly attacked by an overwhelming swarm of horse flies.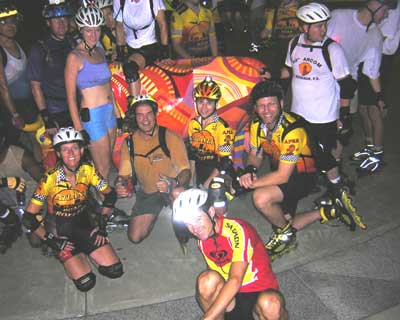 After conquering each cow, the cowboys and cowgirls performed
ruthless rituals, stolen from Indian lore of victory buffalo dances.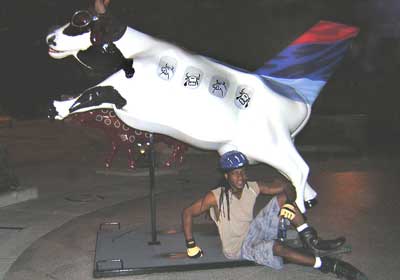 Got Milk ??? Terrance was actually more than eager to replenish
his bottle with high octane, Delta Cowjuice. Be careful Terrance,
the stuff out of that cow's udder is nothing more than kerosene.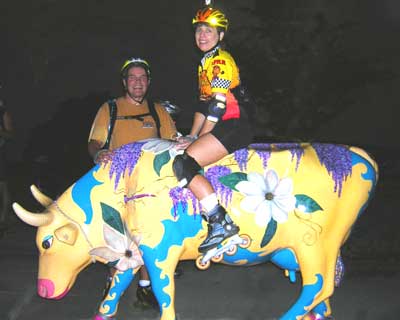 "This Is So My Cow!" Brenda cried out to Mark,
as she spotted the purple and yellow cow from
way the other side of the pasture.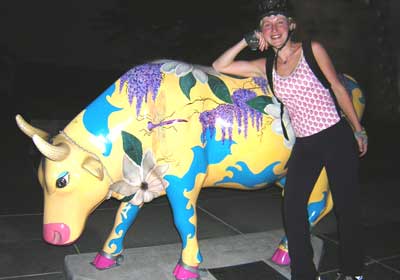 After patiently waiting for the longest time, and once Brenda's eyes
were safely turned away, Zdenka reclaimed the grazing field's most
prestigious inhabitant. "Quick, take the picture," Zdenka hastily
whispered and gestured. "Here comes the policeman."
Zdenka and I then realized that if discovered, we'd rather take a
noose to our necks and hang from the town's big ol' peach tree
– than to live and face the un-arguable wrath from Ms. Brenda.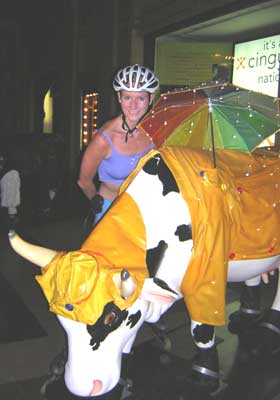 Beth sees the Mooing In The Rain Cow as her perfect match.
It took a long time to find the match, but this one seemed to be just right.
(Every one of us wish your future to become more sunny, Beth.
You're indeed a survivor! And we'all want you to stay around !!! )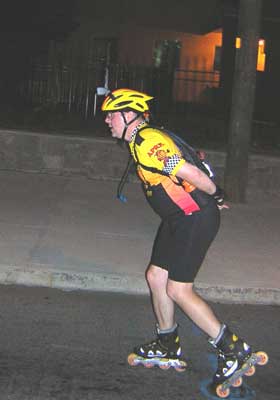 Clayton says: "We're mooo-vin' on to the next herd… They're-a-waitin' for us."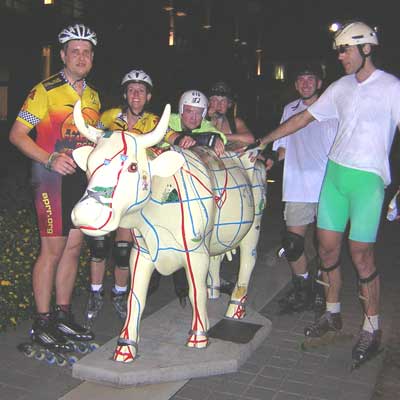 David, Bonnie, Charlie, Zdenka, Marek, and Uwe study the Atlanta
Downtown Cow-nnector Cow.
The general consensus was that no matter where you go in Atlanta,
it'd be faster and easier to just skate there. How true. How true.

As she strolls down the Ralph McGill hill on her way back to the Carter
Center Ranch, Zdenka is overjoyed after seeing so many colorful cows.
She knew there was a good reason to leave Eastern Europe and head
west to the New World – to a freer and more fertile land.
I mean – where else can you be free to graze all evening long,
and never have your fill ???