[Previous entry: "Monday Night - August 18, 2003"] [Main Index] [Next entry: "Goo Goo Dolls Concert On The Bricks"]
08/22/2003 Archived Entry: "Wednesday Night - August 20, 2003"
Our Skate, Skate, Skate
On Wednesday Night – August 20, 2003

Tonight seemed to be fairly low-keyed, but everything else came across as pretty much normal. In other words - Fun. I had intended to skate with the fast group, but still had my bearings and wheels spread-out across the parking lot asphalt at the conclusion of the announcements. (I had been there plenty early, in fact I was one of the first persons to have arrived, but my mouth kept talking & talking.) Before I could even say "Helter Skelter," both the Speed Group (with speed-skaters, Michael and Nick from Memphis Tenn. on board) and the large Intermediate group had already vanished into thin air. The Recreational Group was more considerate of my total disarray. I'm glad I was able to tag along with the "Rec. Group," led by Deb C. - as we all seemed to have had an easy-going but fun time on our way to the Georgia Tech campus.
Goo Goo Dolls - Don't forget about meeting-up at the Carter Center on Friday evening at 7:00. Bring a pair of sandals or spare shoes to take with you as we skate together over to the Olympic Park.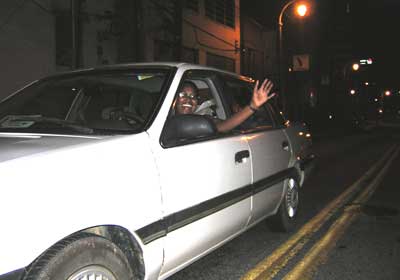 I'd like you to meet my new friend, Marjorie.
"Oh but you can call me Sister Happy," she kindly said.
"I'm so happy to see all-U out-here tonight.
I hope you-all have a nice time out-there a-rolla'-skatin'."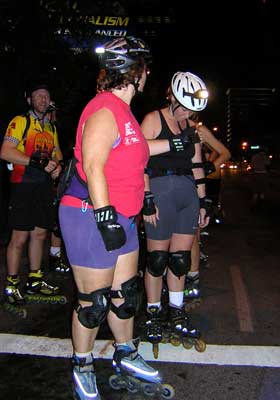 Our Mother Goose Deb inspects all her young-uns
and ensures that they're all safely in the same line.
Without people like Deb, people like me would end-up
all over the place. Fortunately, I only had to be
reminded twice to stay out of on-coming traffic.
"Cars just don't like that," Jenny R. cordially reminded me.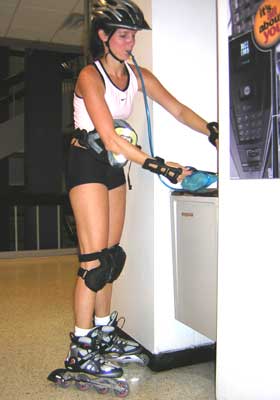 Jennifer "Knows" how to correctly drink water from the
Student Center drinking fountain at the Georgia Institute
of Technology. - - Being on the grounds of such a
prestigious engineering school, she has determined that
the best drinking method should be a sophisticated one.
The only problem with this methodology to her madness
is that she could never figure out why her Camelback
water bladder never became full.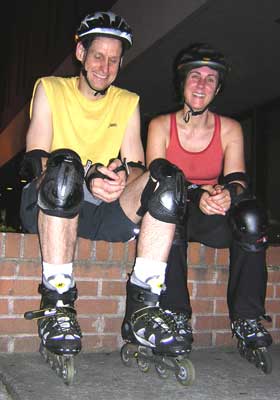 Kevin and Andrea seem to make an ideal couple!
I was able to meet them for the first time, here at the GT
Student Cntr. I then discovered why I hadn't remembered them –
It's been a year since Andrea has last joined us.
Later in the evening, when Andrea had pain in one of her knees
from a non-skating related accident, and Kevin went to fetch her
car for her, I was able to spend some time with Andrea until he
returned. If you haven't met her - - she has some wonderful
stories to tell. We'd like to see her come back soon.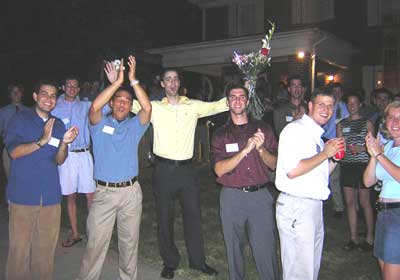 For those who haven't skated through Georgia Tech recently,
you wouldn't believe the huge following that APRR has now acquired.
In one area of GT, huge throngs of people lined just about every street,
presumably for us. "It's awfully nice having a bunch of 20-year olds
cheering us on," remarked Jenny R. Where as, Zdenka M. got a huge white
flower from one of her fans. And Jennifer H. was literally overrun by them.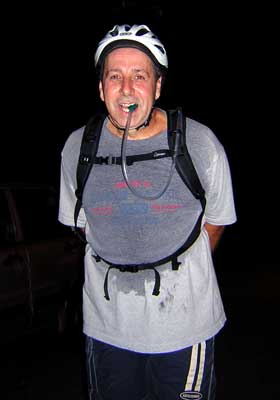 John must have a hole in the hose to his Camelback.
If not a hole, he drools awfully bad.
Looks like you've gotten a good workout tonight John !
He once told me that there's no other place he'd rather be.