[Previous entry: "Friday - August 28, 2003 (Hyponatremia & Rhabdomyolysis)"] [Main Index] [Next entry: "Shears"]
09/02/2003 Archived Entry: "US 10-K Classic - September 1, 2003"
Our US 10-K Classic Skating Race
On Labor Day – September 1, 2003

The following are excerpts from various US 10-K Classic skaters (only three are non-APRR):
(Eddy M - from California)
"I blew-up the first hill... It's no longer there. It was reduced to rubble… I reduced it to rubble. I did this with earth-shaking, powerful pushes. I left everyone behind… Though a pack of five were pursuing me – as best they could. Then they became four. Then after the second hill… at the crest of the second hill, it became three," reflected Eddy. "The best part of the race was that last hill. Coming around that last hill I had everything lined-up. But the hardest part of the race was after I had already finished. I still had a whole lot of energy left… I still had a lot of energy."
(Bruce B)
"It started out that Uwe B was leading Miguel P and me, but then 'Uwe Felt the Hill in His Leggs'."
Bruce, Miguel, and Gary W chased the leading pack, and it was on the fourth hill that Bruce attacked.
"The two guys in front of me - Miguel & Gary - dropped-off," continued Bruce.
Never the less, Bruce came in 7th place, the best he's ever placed in the 10-K Classic.
"I don't know my time though. I only looked at the finish line."
(Miguel P)
"Well, here's what happened... Eddy M went off like a shot up the first hill. Five pro-men chased after him. Then after he got up the hill – this split the skaters into a smaller group of four skaters. Including Eddy's group, which soon became Eddy and two others (Anthony L and Jonathan G), there were about six who stayed close to him. Bruce B, Gary W, and I were in the second pack. Uwe and others were on our tail. Basically, it was an all-out sprint up each hill. All the way to the very finish." Miguel was happy to get to the finish area, so that he could then watch the rest of the event.
(Mark D)
Sorry guys, but I couldn't find him. He was most likely on one of the massage tables. And I dared not bother him there.
(Chuck O)
"I can't remember what happened - - I was racing."
After a moment of contemplation, Chuck then added some more insight for us about his experience of the event. "The only thing that I remember was that there was a pack of teenage girls that sped past me. But I passed them on each up-hill though."
(Beth D)
"It was a Great Race," she said. "Here, let me write it down for you…"
So Beth took the pen from my hand and wrote (in printed writing that is far more legible than my chicken-scratch)…"Great start, great pack of Women Skaters… off in the distance!"
(Bob L)
"I Fu_ked It Up !" he demanded to himself. "I'm Stumped for words," he continued.
"A Great Race - - Perfect Weather - - But Beth BEAT ME !!!"
(Mark R)
I SURRVIVED !!! I did 30 on Saturday - but today - I SURRVIVED !!! And I didn't get beat-up this time. There was plenty police support here - - and I thought THAT was good !!!"
(Lisa B)
I couldn't find Lisa for an impromptu interview, but she later graciously reported-in to me:
"I was racing with a 102 fever, that is why I sucked so bad. I should not have gone because I relapsed when I got home. It shot back up to 103.5. I had convulsions and couldn't move. I am off to the doctor now. I just want every one to know that my time sucked because I was deathly ill."
(Blake - from North Carolina & Elizabeth)
"We only had two hours of sleep. We skated together the whole time – Had no idea of our finish time – Only our heart rate monitor was a concern to us. We need to get some of this food," said Blake. Elizabeth nodded in agreement.
(Lisa M)
"No Comment !!! It was GREAT !!! There were hills. And I skated. I went up & down. Then back up again. My secret weapon was gravity - - I used it to my advantage." Lisa and I started trying to remember the Beatles song "Helter Skelter"- - "…when you get to the bottom you go back to the top of the slide and you stop and you turn and you slide and you drop back to the bottom and then you do it aaagainnn…," …something like that.
(Mike B)
"I got scared coming down the first hill – I used my brake."
"You can't use your brake during a race !!!" Marc St. Pierre scolded.
"I know. I should've taken it off," Mike replied.
He then assured me that the race got better for him after that first hill.
(Jay M)
"I Finished !!!" As big as Jay is, he wore an even bigger smile.
"One of the hills was the hardest point of the race. Toward the middle, I started to bawk a little bit. But then I just knocked through it & went." When he finished talking, he still had the same smile worn on his face.
(Anne W)
"This has inspired me to start skating again. I was all clamped-down on my brake the whole time. And I even forgot my chip. So I wasn't an official racer."
Anne and I skated the race together last year. At that time, she placed second in her age division.
As modest as she truly is, I would think that she had done as well, if not better this year. But you'd never know how talented and athletic she is by merely speaking with her. (But you could easily stare into her blue eyes all day long.)
(Bruce Z)
"I Finished !!!" (He and Jay M had just survived the same obstacle.)
"I didn't fall, and no runner passed me!" Bruce skated the US 10-K Classic for the first time this year, and is currently training through TNT for A2A. However, the US 10-K is no stranger to Bruce. He's run the race for many times previous to this year's event.
(Dewey P)
"I finished. I didn't fall," was the extent of Dewey's normally short sentences. He had an abnormally lengthy smile on his face though.
(Kristie K)
"It was Awesome! It was Great!! I didn't Die!!! And I met a VERY Nice man in a wheelchair."
(Mamie K)
"It was the Bomb - - It was a Blast - - It was Craziness !!!"
Unlike Kristie, Mamie was talking about the Calloway Gardens Triathlon that she, Deb C. and Anne W. had together participated in on Sunday. It was her first triathlon, and she was still stoked about it. The US 10-K was a mere drop in the bucket for her.
(Deb C)
"I was glad that I could finish because I did my first triathlon yesterday. My ankles are sore because I've not been training so much on skates. But I had a Blast !!!"
(Jerry B – TNT for A2A)
"I was dying. I was two minutes faster than last year. I wasn't able to breath as well last year. This year, I didn't stop breathing. I was just breathing very strong."
(Jerry C – TNT for A2A)
"The hills were the hardest part of this race. Catching a ride with Jerry B was the easiest part. The whole thing was a whole lot of fun. The total event was Great!"
"He was doing some serious drafting," his APRR buddy, Jerry B, quickly added in.
(Stephanie R)
"Today was better than yesterday & even last year & the band is better this year. What is that Beatles song?… 'It's Getting Better All The Time'???"
(Jennifer H)
As if rehearsing for a speech in a drama, Jennifer poetically sang, "After a sleepless night, I showed up here in the darkness – wondering why I had ever gotten out of bed. I didn't bring my pillow with me, but now that the race if finished, I wish that I had it with me. - - I'm tired, but happy."
I asked her if she was Very Happy…"Sure," she replied. "I was never so happy to see the Big Chicken."
(Bill C)
"I Finished !!!" he said, with his thin smile that marks Bill as being Bill. He was never the less speechless - "I Finished !!!"
(Brock W)
"I think it was great, considering I'm not in shape to do this. It was nice. I'll do it again."
(Donna Momma – from Miami)
"This is my second one. I LOVE IT !!! It's such a FUN race! It's Fast. It's Exciting. And unlike Miami – It has HILLS !!!" She went on to say that The Philly Skate Jam was her training for the US 10-K Classic.
(Brenda C)
She was busy organizing. She was simply interested in asking me if I was going to meet her and the others at the Big Wave Pool at 11:00 AM.
(Jim M)
"I got here too late to know what's goin' on."
(Marc St. Pierre)
Ok, I over slept. I had been up until 3:30 AM working earnestly on wedding photographs that I absoultely must put closure to. "I just want to close my eyes for an hour & a half. Nothing more. Surely I can't sleep in this chair for any longer than that," I sleepily said to myself. I then awoke with a one word profane statement - after noticing that sunlight had completely filled the room. I bolted out of the chair and out the front door at the same time.
"That is my worst fear," Stephanie R said to me. "Last night I prayed to God, 'Dear God, please don't let me oversleep. I just want to wake up on time. Please God, make sure that I'm awake'."
(Paul K)
"It was a fine event. Everybody finished safely and that's what we like."
His better-looking-half, Cindy, smiled in agreement.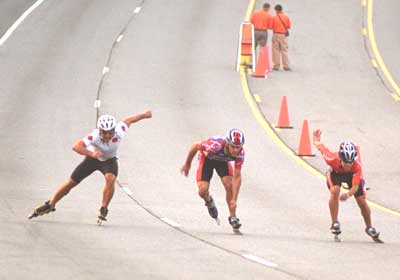 Eddy M (in white) is sprinting to the finish line. With less than twenty meters of the 10 kilometer race lying in front of them, the three skaters (Eddy M, Anthony L, and Jonathan G) are encroaching 40 mph as they take the checkered flag. Eddy placed second to Anthony L by less than the length of his skating frame. "The camera showed that my upper body was in front of his. But he thrusted his chip-leg out in front of mine. I guess I need to learn how to do a split."
"I'll help you with that," exclaimed Beth D. "I've taken gymnastics."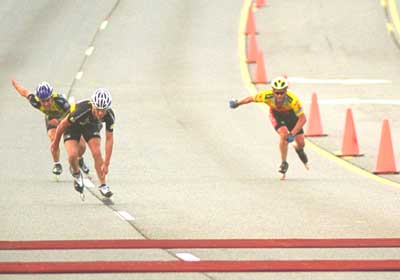 It was merely a fraction of a moment after the first pack of three had finished, that I looked through the camera lens and discovered Bruce traveling down the final hill, towards the finish line. I knew right away that it was Bruce because I saw all of his energy channeled into a precise, straight-line of focus.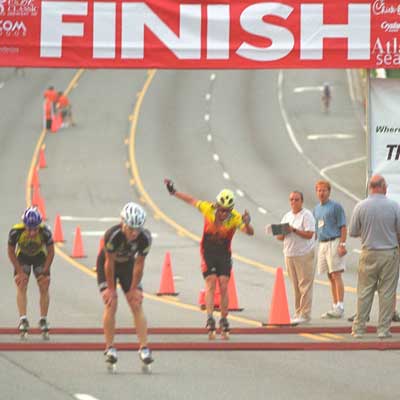 Bruce crossing the finish line at 18'-09".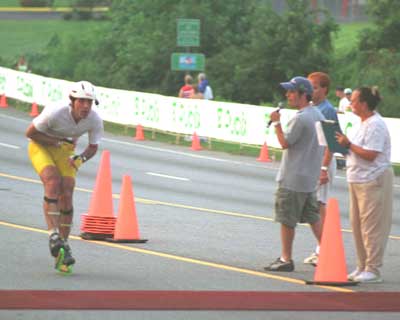 Uwe crossing the finish line. It was pretty neat though. The announcer said over the PA system, "And here we have Uwe B, who is no stranger to the US 10-K Classic. He has done well this year as always."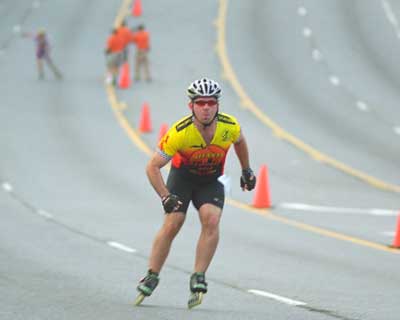 Bill is one blazin' skater. He's on an upward stretch in his skating career, and from what we can tell, there's no plateau in sight. Bill powered himself all the way to the finish line, and had the same high level of even-keeled gusto that he takes with him to all the skating events. Go Bill, Go!!!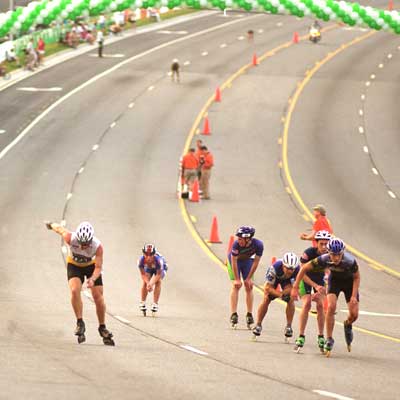 What can I say about Chuck! Not enough, that's for sure! This photo of him rocketing up the last 50 yards of the race tells an entire book about his character, his strength, and his strong desire.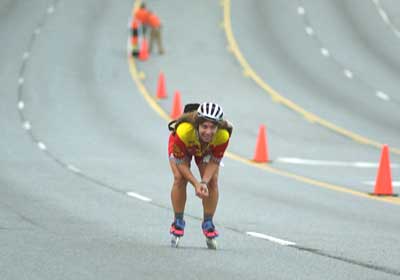 Lisa B is truly a grand skater. Although she seems to have many different outlooks on life, she has but only a couple of focuses: 1) Her son Andrew, and 2) the finish line of this race. The exact moment that Lisa conquered the latter of these two was when she began to re-focus on the former.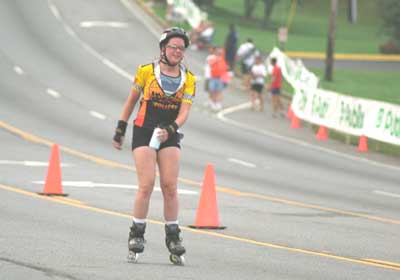 Lisa M has not been skating for very long. But for the length of time that she has been skating, she's come a long, long way. Far beyond ten kilometers. She already has her new speed boots and five-wheel frames all ready to go. So once she's up and flying on these babies next year - - skating world, you'd better lookout !!!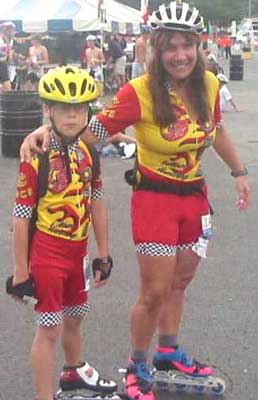 (Photo provided by Lisa) Lisa emailed to me "I really did go out in public like this with Andrew!"