[Previous entry: "Monday Night - September 1, 2003"] [Main Index] [Next entry: "Yong H. T. on Magnesium - September 5, 2003"]
09/04/2003 Archived Entry: "Wednesday Night - September 3, 2003"
Our Skate, Skate, Skate
On Wednesday Night – September 3, 2003
By Mark R.

We have had a busy Labor Day skating weekend that stretched from Saturday all the way through Monday. Brenda C lead a "Last Thirty Miles of A2A," on Saturday; the US 10-K Festival was both Saturday and Sunday; the famous 10-K race was Monday morning; and Monday night was our skate night. (We all thought that it was great to see so many APRR jerseys at the 10-K race.) As we arrived at the Carter Center, we could tell that tonight would be a more intimate skating group than normal, as we saw a fewer number of cars. Carl C announced that he could handle everyone, and then combined the intermediate and aggressive skaters for his adventure. Thanks to a cold front moving through Atlanta, it was a good night to skate. The weather was overcast and cooler than normal. And after the skate, a small crowd met at Fellini's for both food and "victuals & strong water."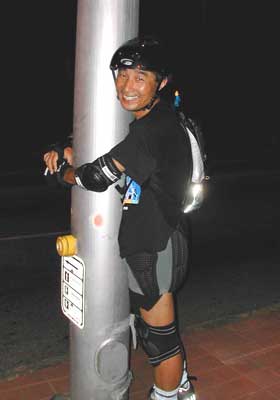 Yong was all smiles while hugging his newly made best friend.
He has only recently been skating with five wheeled skates,
and was literally up and down a bunch on tonight's skate.
Good thing that he has good protection: padded pants, knee-
pads, etc. With all his protective equipment, there was no
road rash to be seen on him. And by falling so frequently, it
makes you wonder, "What Lies Beneath !?!" Ok, maybe not.
However, Yong did a great job of staying with the group tonight.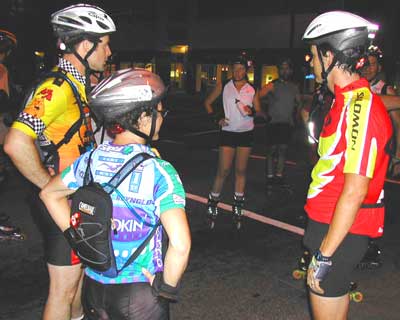 Thomas, Nancy, Lisa, Bill, Mims, and Chuck are all wondering
if Carl would ever be able to get them to the GA Tech Student
Center. It was then Lisa who said, "Follow Me!"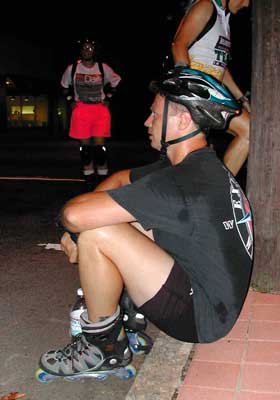 Carl takes a break near the end of his skating adventure.
Having to skate with "Spanky and the Gang" of fast skaters
wore even Carl out. He makes good use of the time though
to contemplate the condition of Paula's arm, which was
severely injured on Carl's previous skating adventure, while
with her at St. Simons Island.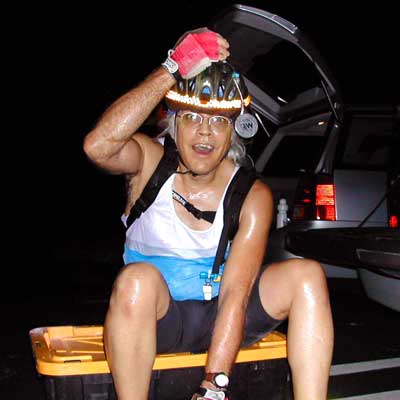 Don is looking "S L I C K" at the end of the skate led by Carl.
Eeewwwww…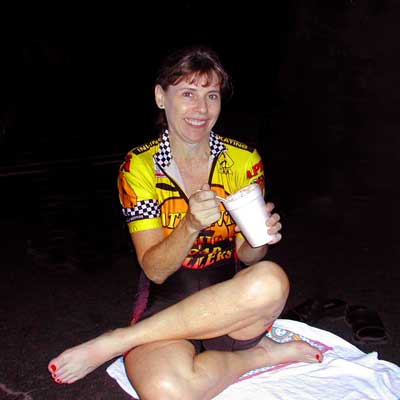 If you are ever looking for ice cream, just go looking for Brenda!
Now, where did she get the ice cream this time?
I'll bet that she even eats ice cream while taking a hot bath!