[Previous entry: "Yong H. T. on Magnesium - September 5, 2003"] [Main Index] [Next entry: "Wilson 60 - September 7, 2003"]
09/08/2003 Archived Entry: "The Big Apple Roll, Friday-Sunday - September 5-7, 2003"
Our Big Apple Roll
On Friday-Sunday Ė September 5-7, 2003
By Brenda C.

What a fun weekend we had in NYC doing the Big Apple Roll!!! Approximately 100 skaters participated, and the weather was warm, sunny, and glorious! We skated all over Manhattan, through Central Park, north to the Cloisters, into Queens, and over three large bridges. The views were magnificent. The Friday & Saturday night group skates were a real adventure! And even more, Friday night included a dinner at a unique restaurant where the waiters/waitresses (not sure which) were transvestites. While at the Stinky Luluís restaurant, a show was performed for us by one waiter/waitress. Clothing went flying and the laughter was re-sounding!
The majority of us did the day skates on Saturday & Sunday, which included a picnic in a park, located along a beautiful river. But some early birds had already done some laps in the park on each of those mornings.
The Empire Skate Club was a wonderful host and did an awesome job! Letís hope the Big Apple Roll becomes an annual event - so that you poor souls who missed it this year will have another opportunity!!!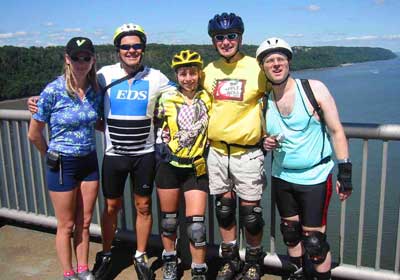 Beth, Mark, Brenda, Marek, and Scott on the George Washington Bridge.