[Previous entry: "Wednesday Night - September 10, 2003"] [Main Index] [Next entry: "NorthShore Inline Marathon (In Duluth MN) - September 13, 2003"]
09/14/2003 Archived Entry: "Fifty-two Miles of D2A - September 13, 2003"
Our 52 Miles of D2A
On Saturday Morning - September 13, 2003
By Lisa B, Chuck O, and Kimberley W

"Essentially this was a Reconaissance + Training Skate. Moderate pace to take a look at the new leg of a2a: 52 miler."

At 7:00 AM, four skaters left Piedmont Park to conduct a Reconnaissance/Training skate for the Athens-to-Atlanta (A2A) double marathon route, which this year is to become a new addition to the event's multiple inline skating road races. APRR's Bill B, Jenny & Mims R, Chuck O, and Greenville, SC's Kimberley W then drove from Piedmont Park to Dacula, where they found the 52-mile Dacula-to-Atlanta (D2A) starting point fairly easily. (Jenny, Mim's lovely wife, was the one who was kind enough to transport the four skaters.)
Conversely, Blake L & Elizabeth B also started in Dacula, but at the A2A 38-mile finish area. Lisa B began her reconnaissance mission in Suwanee, so that Kimberley could easily drop her off, while traveling back to Greenville. Uwe (like Cher - let's just call him Uwe... no last name needed here) started his reconnaissance & training from his own home, in Stone Mountain. As you can see, when doing a point-to-point skate like D2A, the transportation arrangements and logistics can get really complicated! In fact, as of late Friday night, Blake, Lisa and Kimberley were still frantically trying to figure out their own driving arrangements!
Kimberley, who normally trains solo, decided to come down once again to Atlanta, after having had such a great skate with APRR the weekend before - at the Wilson. It was there that she met the happy go-lucky APRR gang for the first time. Of course, APRR was happy to again share their friendship with her. Although Kimberley wishes to skate more often in Atlanta with us, she let us know about her 2-year old son at home in Greenville, whom she is very much attached to.
Nevertheless, it was another gorgeous day, and the morning temperature was in the high 60s. As a group, we were ready to train hard, as well as to take a look at the new 52-mile course - which merges with the last half of A2A's 87-mile course. The D2A Reconnaissance/Training skaters then braved the extremely busy Saturday morning traffic and lack of police escort at each intersection in order to accomplish this.

Chuck: Our group of four left the 52-mile start around 8:00 AM. The first turn had a lot of large, construction type gravel, making the right turn onto Petty Street less than desirable for skating. We then came upon a Mini-Gatorback section. When we got to the Cedars Road intersection, we realized that both ends of this road will have to be police-manned.
Old Peachtree Road had heavy traffic. Hopefully, this will not be as much of a problem on the morning of the actual race, as it will be a Sunday morning. At mile 15, we stopped in for refueling & re-hydration.
At 20 miles out, we ran into Uwe, who had skated from his home in Stone Mountain to meet us. Uwe then lead-out a full-blast paceline with Mims, Bill, Kimberley, and myself in tow. It was a nice run on the streets, and everyone fortunately stayed safe.
We were all delighted to finally see Stone Mountain, after the stresses of dodging traffic. We were now in our home territory. Kimberley was given notice that Silver Hill was coming up soon, as it was only her second time ever to descend this giant on the A2A course! Without hesitation, Mims and Uwe blasted down the hill together. Kimberley, Bill, and I then left one after the other, skating down solo to get a close look at the course. Mims had already commented that Silver Hill has three sections. The first section is the initial drop, which is the lesser of the three evils. The mid-section is where you pick up the most speed. And the last section is where you are still gaining speed, but are now spilling into a much anticipated rise on the on the down-hill's other side. We all agreed that the Big Giant - Silver Hill, is not as steep as it is rumored, and can carefully be taken at full speed on race day.
Kimberley: Chuck maintained our bearing, average speed, and mileage with his handy Garmin Gecko 201 GPS. The Gecko clocked Chuck's descent on Silver Hill at 40 mph. You have to have guts & confidence, and be steady & strong (in both form & leg strength) to hold a tuck on this part of the course! It's a critical point in the race where skaters can easily be dropped, if they're not daring enough to hang with their pack. And of course, Uwe skated ahead to stop by his house (which is right off the course) for more water bottles. Now the question is: Does Uwe do this in the race, and we just don't know about it?! If so, he's most definitely the amazing skater we all already know him to be!
Chuck: We refueled & re-hydrated at the convenience store, located just after Silver Hill. With the final 16 miles to go, we were all ready. Uwe reappears on the course, after having skated to his house. He tells us that he met the other group of skaters, who were Blake, Elizabeth, and Lisa. (He had crossed their path three times while waiting for us to catch up to him) The group of three were only about five minutes ahead of our group. Once again, Uwe's proven his amazing strength to us all. We realized the fact that we needed to pick up the pace! Soon after the convenience store, and around the Avondale area, we finally saw Blake, Elizabeth, and Lisa in the distance. We caught up to them, and then exchanged skating stories about our two uniquely different trips.
Lisa: At 7:30 AM, I skated from Old Peachtree Road/Lawrenceville-Suwanee Road (at the D2A's 50 mile mark), where I backtracked the route, by myself, for about five miles. I then meet-up with Blake & Elizabeth. It seemed strange to skate in the opposite direction of the D2A route, let alone during twilight. I got some very odd looks from passing traffic. "WHAT? Hey you fellow Gwinnettians, ain't you never seen no hot pink skatin' skinsuit lady cruising down the road?" At about 8:00 AM, and while on Old Peachtree Road, I was thrilled to finally see Blake's happy skating smile.
After skating together along the route's correct direction for about 15 miles, while we were still in Lilburn, we ran into Uwe. We then posed for photos. Then, Uwe sped off and kept skating the route backwards (well not actually skating backward but skating the route in the opposite direction), looking to reach what he called the "fast group." Like what are WE Uwe? The "Not-Fast Group?" And how come Uwe didn't skate backwards while skating the route in the opposite direction? It was such contemplating mysteries that took my mind off my aching feet.
We were nevertheless making good time on this beautiful, cool day. All three of us kept a steady and even pace, each taking turns pulling. After having taken photos at the top of Silver Hill, Blake and Elizabeth hammered down Silver Hill Road, while I used my usual one-stop, chicken strategy.
Chuck: We then split off again from each other to finish the course. Upon arrival into the Highlands, the traffic was horrendous!! For some reason, a lot of people go to the Highlands for brunch on Saturday mornings. They do not understand packs of colorful skaters - who speed down the road! We are all hoping this traffic will be in control on Race Day. It was at this point where the geography becomes second nature to us APRR folks. However, you could see the film rolling in Kimberley's head, as she was recording EVERYTHING - - looking for what is there and for whatever advantage she could make use of on the A2A course.
According to Kimberley, I had waited patiently, time and time again, for her to carefully conduct her own recon - in what seemed to be slo-mo to the rest of the group! Mims & Uwe raced down Highland to Virginia. They then made the A2A turn and left Kimberley & me to face the traffic and traffic lights, that were not letting up.
We were skating bumper to bumper with the cars, making close calls in what was a precarious situation. While Mims and Uwe battled it out, and arrived at Piedmont Park a few minutes earlier than we did, Kimberley and I rolled in at 3:35:54. This made our pace a nice & easy one at 14.6 mph on average. A perfect pace for our reconnaissance & the day's extremely heavy traffic. Bill arrived a few minutes later, and then came along Blake, Elizabeth, and Lisa. We then took a few photographs and said our farewells, knowing that we'd all be back to skate this route once again - - in just two weeks!
After the group photo shoots, Kimberley was kind enough to offer to drive Uwe home. We could not understand why he did not just skate home (as he would normally have done). But this time, he was tired. Perhaps it was because he had just skated twice the distance than the rest of us – with all his back & forth skating. Kimberley then allowed three additional, very sweaty skaters (Blake, Elizabeth, and Lisa) into her car. She dropped them off in Suwanee at Lisa's car. Lisa then drove Blake and Elizabeth back to their car, which was parked in Dacula. The transportation arrangements seemed to have worked out well !
Finally, a great skate everyone! I had a blast, and on Sunday, I still felt great. However, after some drills and skate soccer, I became aware of being fatigued earlier than usual.
WOO HOO!!
Remind me again why this is so much fun??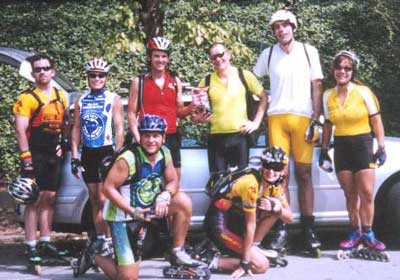 (Photo provided by Kimberley W)
Reconnaissance/Training Skate of the 52-mile A2A course –
in preparation for the upcoming 87-mile race on September 28.
Pictured here in Piedmont Park upon finishing the route:
(Back row) Bill, Kimberley, Mims, Chuck, Uwe, and Lisa
(Front row) Blake & Elizabeth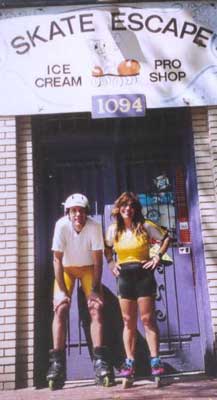 (Photo by Kimberley W)
Uwe & Lisa in front of Skate Escape, upon
finish of the 52-mile D2A Training Skate.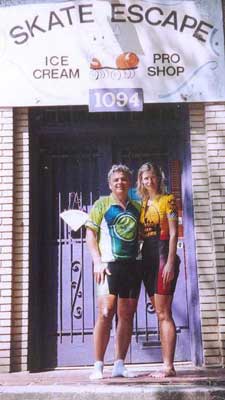 (Photo by Kimberley W)
Blake & Elizabeth post 52-mile Training Skate.