[Previous entry: "A2A - Friday Night Skate, September 26, 2003 (Part 1)"] [Main Index] [Next entry: "K2K (K2-Kimberley) - October 3, 2003"]
10/01/2003 Archived Entry: "A2A Friday Night Skate - September 26, 2003 (Part 2)"
Our A2A Skating Adventure
On Friday Night, September 26, 2003
(A2A's Friday Night Skate - Part 2)

Be sure to check out Jeffrey B's photographic account of the A2A
- Friday Night Skate: Click Here for Jeffrey's A2A Friday Night Photos

I looked at my car's clock, which no matter how many times I reset it, it's always two minutes slow. The time said 6:44 and I was still to the north of Marietta on I-75. Last year, I was so late to the A2A Friday Night Skate that one other skater and I spent the entire evening searching the Atlanta streets for police sirens. Only once did we hear a siren, but it turned out to be an ambulance heading to Grady Hospital. It now seemed apparent that this year would be a repeat of last year. I moved over into the Interstate's passing lane and simultaneously searched into the passing bushes for hidden Georgia State Patrol cars. You can easily tell where they're at after speeding by them. I was now speeding.
I was fortunate to easily find a curbside parking space, just up the Piedmont hill from Skate Escape. I quickly threw-on my gear, and sprinted against the on coming traffic down the one way street. One block later, and now in front of Skate Escape, my biggest fear materialized. There was Henry Z, and a skeleton crew of a few others. I knew for sure that I was in no way overly early. "How long ago did they leave?" I hastily asked Henry.
"They're ten minutes up the road," he said with what I couldn't tell as being a half-cocked smile or his natural expression.
I asked back, with less of a smile, "Ten minutes??? Why did they leave so early?"
"No, they're TWO minutes up the road," he said more clearly - - with a now definite huge smile.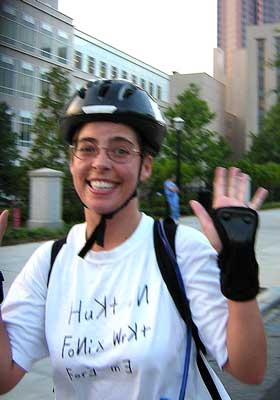 Kristie skating her way up Peachtree Street.
She's basically innocent. But the plaintiff of A2D
now accuses her as an accomplice of carrying
TNT across the 38-mile finish line in Dacula.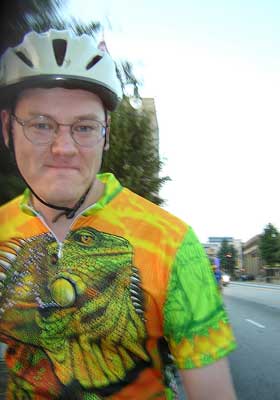 Michael is almost as ferocious as his Primal
Skating Jersey. The only difference is that he
doesn't bite like the iguana. At least I've heard
that's the case. Help us out here Mamie.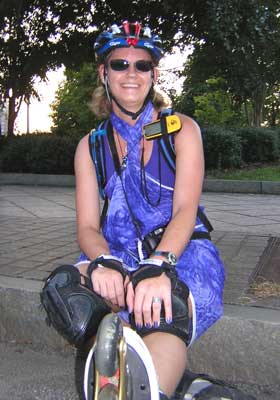 Although there were many opportunities for rest
& relaxation throughout the Friday Night Skate,
Lori S - from the Washington DC area, enjoyed
each opportunity. After all, it was in her strategy
to rest as much as possible prior to the arduous
38-mile, A2D event.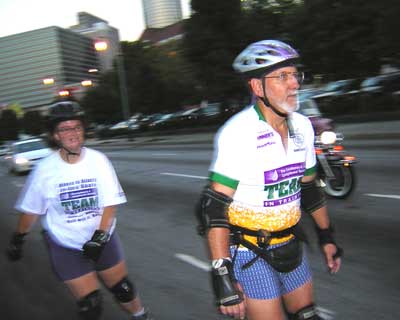 TNT's Deb and Bruce skate their way up Peachtree
Street, and into the downtown Atlanta area.
Bruce is the Run/Walk Coach for the Atlanta TNT
Chapter, but interestingly, he is a Veteran of over
11 Team In Training events!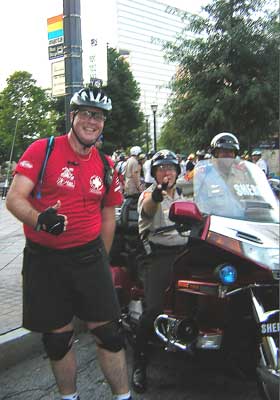 Jay is totally stoked about A2A, D2A, and A2D.
He and his wife, Debbie, were our official A2A
photographers. All the pics that you see in this
Weblog are of course unofficial. The Sheriff's
deputy was excited for us too, as he gestures to
photograph Jay and I.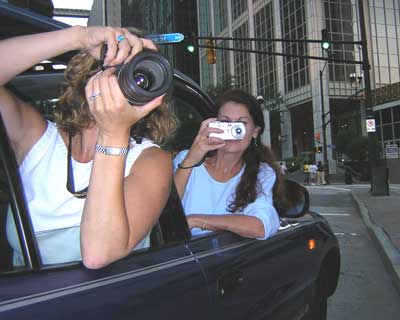 Skater Paparazzi.
Debbie Y and Linda S.C.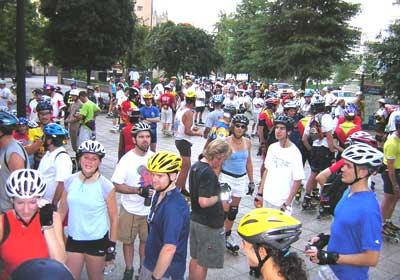 If there is no other reason for hosting a world class inline
skating event – this is it! A skater's social galore alongside
Peachtree Street, across from the 191 Portman Tower.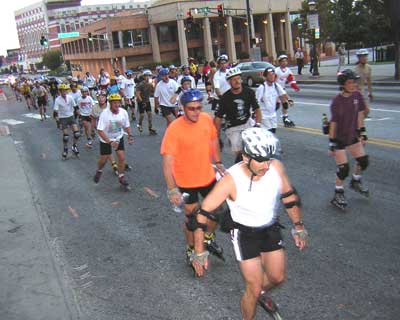 Skaters blasting their way up Marietta Street, past Olympic
Park, and through the Georgia International Plaza area. They
completely swarmed the entire Atlanta downtown.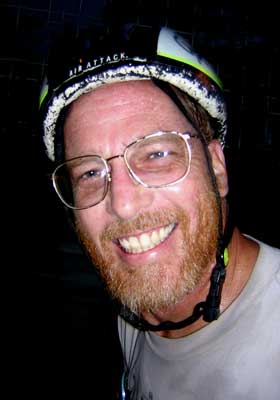 Donn B, from Texas. "THE DONNFATHER"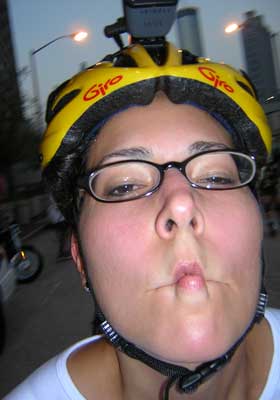 All of APRR misses Grace S.
We need her around us more often!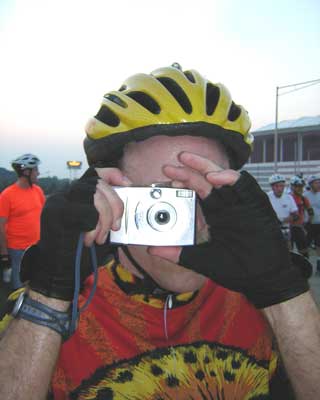 Lenny W, from Boca Raton, Florida takes a moment to
capture APRR's Weblog editor and the two naked women
leaning against him. Now the cat's out of the bag!
Click Here for Lenny's A2A Photos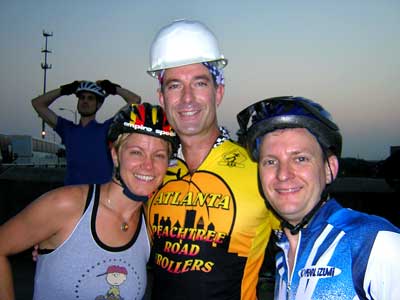 Barrie H (who has recently transitioned from New York
to Oakland, California), Mark D, and Dan D are at the
Georgia Dome. Jeffrey B stands tall in the background.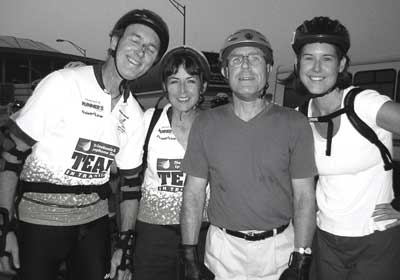 Some happy and sleepy skaters at the GA Dome.
Donald, Amy, Jerry, and Stephany.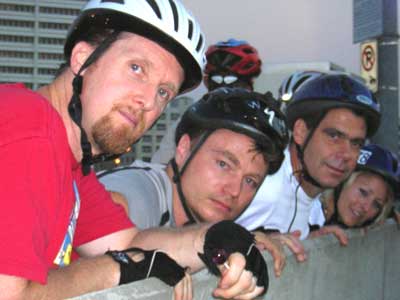 Jeff S and Carl C are with Pete H and Darlene F from
Grand Rapids, Michigan. - - at the Georgia Dome.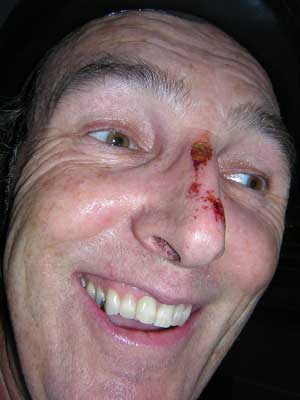 Although it was only the end of September and not
October, I just had to include this wonderful image of
Donald. His official response was, "My nose fell
while I was skating in Portland, Oregon… I need to
write something about it for you to put in the Weblog."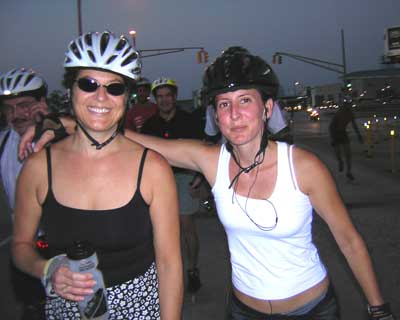 Lori C and Patricia F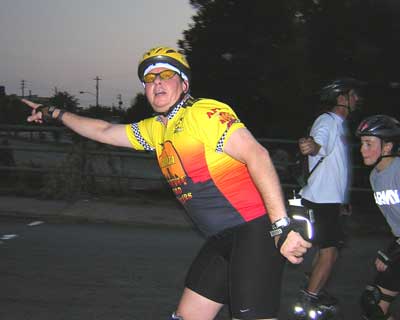 Jethro J is leading Kelly's Army "that-a-way."
"Over There, Over There, We Go Skating, Over There…"
Well, or so goes his cadence.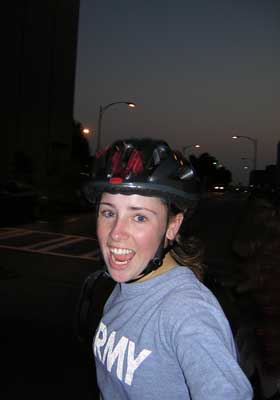 "YOU'RE OUT-A' LINE SKATER !
WHAT IS YOUR MAJOR MALFUNCTION ?
YOU'RE NOT WATCHING WHERE YOU'RE GOIN' !
WHAT IN THE GOOD LORD'S NAME IS YOUR PROBLEM ?
YOU'VE GOT-A' PROBLEM SKATER !!!
WE DON'T WANT PROBLEMS AROUND HERE !
IS THAT CLEAR ?
I SAID - I S T H A T C L E A R ???
WATCH OUT ! WHATCH OUT !
NOW YOU ALMOST HIT THAT POLICE OFFICER !
HE'S DIRECTING TRAFFIC FOR Y O U R SORRY BUTT !
BUT YOU ALMOST SENT HIM UP TO THE GOOD LORD !!!
WHAT BOOT CAMP TAUGHT YA' TA' SKATE LOOKIN' BACKWARDS ?
WHAT IS YOUR PROBLEM SKATER ?
DROP AND KNOCK-OUT 87 !
AND DON'T STOP TILL I TELL YA !"
- Kelly's in the Army now!