[Previous entry: "K2K (K2-Kimberley) - October 3, 2003"] [Main Index] [Next entry: "Wednesday Night - October 1, 2003"]
10/04/2003 Archived Entry: "Monday Night - September 29, 2003"
Our Skate, Skate, Skate
On Monday Night, September 29, 2001

Unexpectedly, there was quite a large gathering of us at the Carter Center. With A2A immediately behind us and now placed safely at our backdoor step, I would've thought the number of gathered skaters would've been more sparse - being that everyone claimed the day before to be so "pooped-out." But hey, lets face it, the weather was perfect for skating - - no clouds, no wind, slight chill, a sharp crescent moon, and a huge bright red planet Mars, hanging high in a black, starry sky.
Initially, it was proposed by Beth D and Jenni X (who was still with us, here in Atlanta) to pull together one, single "Go So Slo" group of A2A tired skaters. But surprising to all, it was Jennifer H who took the stage for the first time. "I'm gona' lead a slow group. I don't know where I'm goin', But I'm goina' lead it." We could instantly tell she's no longer a sweet, tag-along virgin. With her new found pride, she stood taller than all of us combined.
And Then, Jennifer's slower than "Go So Slo" group of A2A tired skaters was rarin' to take off. That left the rest of us to stand in place and debate amongst our selves where our tired A2A souls would go tonight. We could instantly tell that it was we who remained virgins - - to tiredness and groggy thoughts. With much convincing from everyone, it was decided that we'd all skate to Piedmont Park as a single APRR. Once at Piedmont Park, Jennifer could go her way, and the rest could then resume the debate of indecision.
This, my friends, is exactly what happened. We slugged our way to the Park, entered the Park, and once in the Park, the Park became a quagmire of scatter brained and scattering skaters. For each branched pathway that Piedmont Park has to offer, that is exactly how fragmented APRR became. There were multiple groups of skaters traveling in every direction. Some of the groups kept passing each other, and several of the groups simply disappeared. But all skaters thought their own group was the only group that wanted to skate, and each group thought that all the other groups simply wanted to go home. "It's a shame everyone wants to go home tonight," Brenda C clarified to our own small group.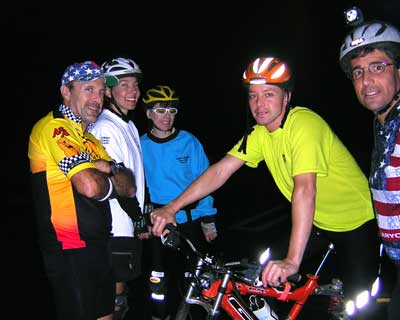 A2A gossip just after gearing-up.
(Left to Right: Peter U, Cindy S, Brenda C, Paul H,
and ??? Please help me w/ his name)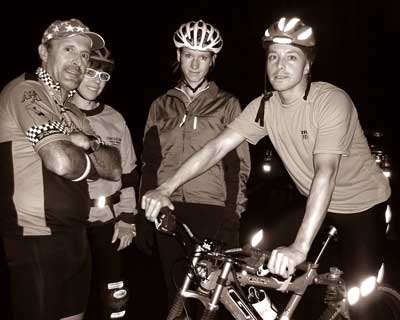 Continued skater gossip with Beth D.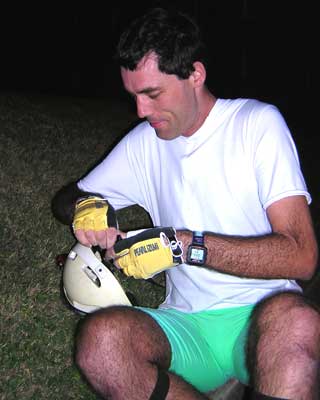 While skating along N. Highland Ave, and near its
intersection with Ponce De Leon Ave, Uwe's rear
view mirror broke. It was our tell tail sign of seven
nights of bad skating luck. Tonight must've been
the first of those nights.

Kathy and mother Kathryn Z skating along N. Highland Ave.
Kathryn was instrumental in ensuring the success of this
year's A2A.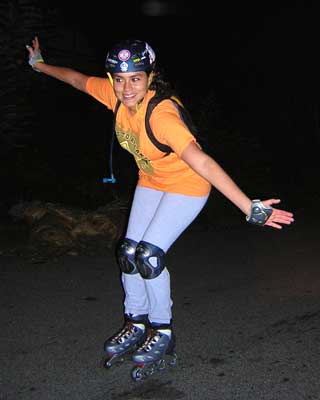 There is no mechanical experimentation here.
There is no testing of motor skills.
There is no Carl around to appease.
Nor are there any drugs on this street.
Paula is flying for a reason totally unrelated to all this.
Although she's on a high, her high is a combination of
lots of different stuff, like A2A. Skating down the Park
Drive hill was merely a part of this equation.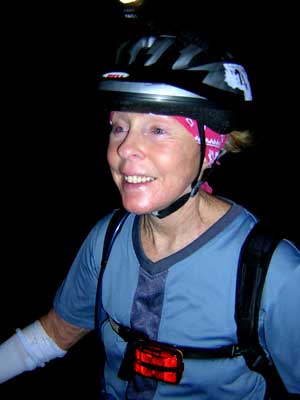 If I were a year or two older, I'd want to marry Susan.
(I know of only one other person comparable to her
- a much older, German lady at 87, who regularly hikes
up mountains in virtually any weather condition.)
However, I'd say Susan's indeed pretty unique.
(And beautiful too!) And I can only imagine she has lots
and lots of stories to tell.
You see, if we were married, I could listen everyday to
her stories over coffee in the morning, tea in the afternoon,
and after a stiff drink each evening. And then, I'd want to
keep listening to her stories all night long.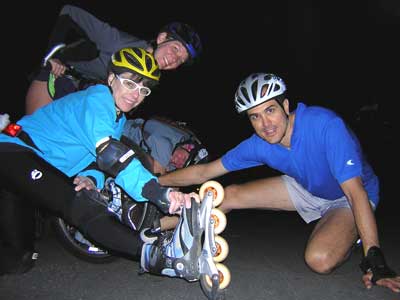 A mass of skaters entered into Piedmont Park.
The mass of skaters then scattered throughout
Piedmont Park. Our segment of the mass circled
within Piedmont Park, and then exited its gates.
"Na, lets go back into Piedmont Park." Our legs
became so tired of zig zagging around, that we
decided to stretch instead. (In front: Brenda C
and Jeffrey B; In back: Debra R and Susan D)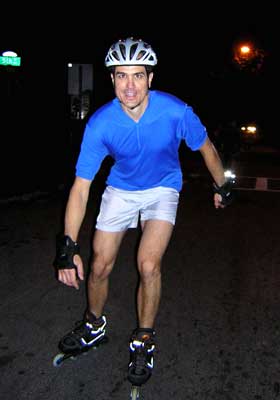 Jeffrey trying his darndest to catch-up to me
on the Charles Allen Drive hill. "You're definitely
faster," he later admitted.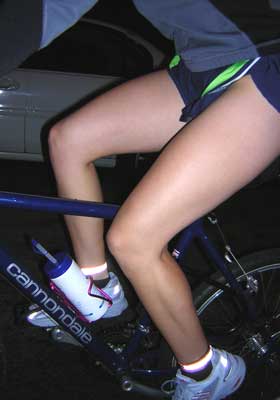 Debra R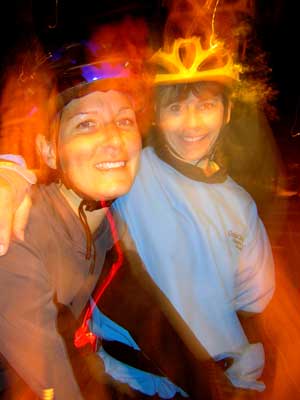 Debra, Brenda, and my idiot camera
– back at the Carter Center.