[Previous entry: "Chief Ladiga Trai Skate - October 18, 2003"] [Main Index] [Next entry: "Monday Night - October 20, 2003"]
10/21/2003 Archived Entry: "Zunday zleeper zkate (Zzz) - October 19, 2003"
Our Zunday zleeper zkate (Zzz)
On Sunday Morning - October 19, 2003
By Chuck O

A Mr. Rogers' Neighborhood Skate -
Neighborhood and neighborly skating was the focus of this lovely Autumn morning. Chuck O, Jay M and his wife's friend, Gina (from Maryland), Jethro J, Jim M, John M, Ken O, Marc Sk8 Pierre, and Renee W - all hit the residential streets around Ansley. It was a Sunday late morning skate through colorful, falling leaves - falling through a cool and crisp morning air.
As we were all deficit of caffeine, it was decided to hit the Caribou Coffee Shop, located at Monroe and Piedmont. Some of us addicts were needing to get our caffeine fix (it was just about all of us). And we found that we needed it again later in the skate. The cute, young Caribou barrister asked if we skated while drinking (I assumed she meant coffee), and with a smile, I responded, "Of course we do! You drive & drink, right?" She blushed when she responded that she doesn't, but admitted that she admired our ability to multitask.
Off into the neighborhoods we went, with Jethro leading us through the Morningside area and to a small, commercial plaza on North Highland Ave. Bright sunshine met our eyes, and the crisp, still air brushed our skin as we skated through it. And while at the plaza, we saw an Irish Setter dog desiring the same. Its head quickly protruded through the BMW sunroof, as its owner drove from the plaza's parking lot.
From North Highland, we headed toward Little Five Points, but our agenda was soon refined. Giving us a sense of direction was a sign in the ground that advertised an art festival in Candler Park. Renee pleaded for us to visit (Ok, how could I have told her NO!!?) We soon reached Little Five Points, and then along McLendon we went - all the way to Candler Park, with a very happy Renee.
The festival's vendors were just getting ready for the busy day (and here, I thought WE had slept in!). Final touches were being made on their booths and displays of art, clothing, various crafts. We were as strange looking to the artisans as they were to us. But even though the park now seemed to us like a third world country's bazaar we found ourselves very much in place with all its activity.
Now, guess what awaited us? We could smell them from here - even though we were a long way away from the destined Krispy-Kreme donut shop. We headed back toward downtown via Edgewood Ave. And once there, we were greeted by a bright, daytime half moon, nicely centered in the deep blue sky between some of Atlanta's larger skyscrapers. We regretted already being out of the Weblog disposable camera's film. It was a cheap camera anyway.
Once down Ponce de Leon and at the Krispy-Kreme, we had a REAL treat ! As we stood in line, Krispy-Kreme was handing out free donuts. We were full even before we got to the front of the line. To quote Homer Simpson, "Hhhhmmm, doughnut !" Jay bought an entire tray of them and treated us to a pure sugar rush. Thanks Jay!!! We talked with a couple, Mike & Dana, about paramotoring. This is basically strapping a big fan and parachute onto oneself and flying - and praying. They were equally interested in our skates. We then said our good byes and headed back to a throng of Aids Walkers, in and around Piedmont Park. They were walking to raise money to help cure the disease. But we couldn't tell where it was that they were walking to.
To some it all up. It's was once again a beautiful day in Mr. Rogers' neighborhood !!!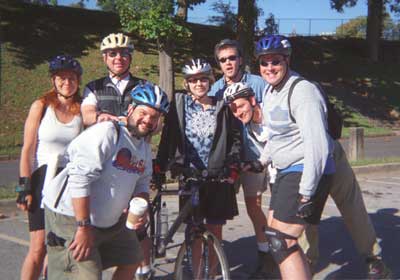 Mr. Rogers' visitors. We soon solicited inline skating to his whole
neighborhood. (Front Row - Left to Right) Jim M and Jay M
(Back Row – Renee W, Jethro J, Gina (from Maryland), and Chuck O
(In very back) John M
Not shown are Ken O (who skated off to seek the call of duty) and
Marc Sk8 Pierre (who is on the other side of the disposable, I mean
recyclable camera).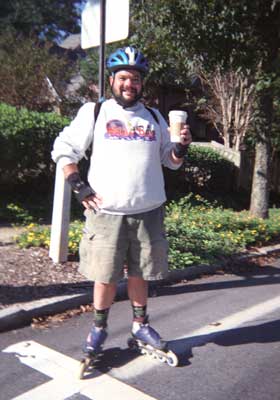 Jim had to take a break and sip on his coffee at every intersection.
The more intersections the better for Jim. The Zzz will surely create a
fantastic Sunday morning business for coffee shops such as Caribou.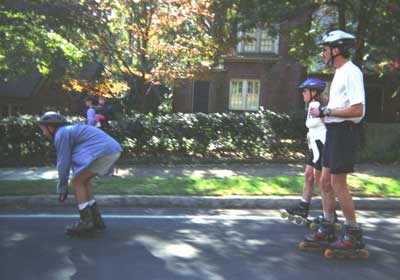 Strolling down East Morningside Drive toward North Highland Ave.
But we had all the time in the world to get there. (John, Renee, and Ken)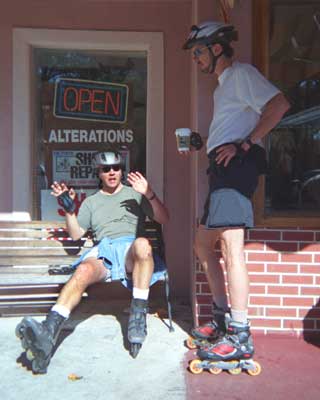 It wasn't long before this that we were all fast asleep. John still has vivid
memories of his recent sleep, and describes the details of his bizarre
dream. Ken didn't know what to make of it, let alone what the dream meant.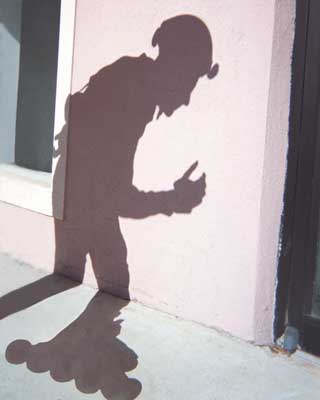 We had chased Chuck's shadow all the way up to this small, commercial
plaza off North Highland Ave. Chuck was still at home, and still asleep.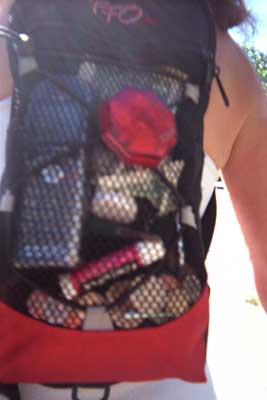 Renee was carrying everything under the sun with her. Consumed though
was her coffee, and discarded was her coffee cup.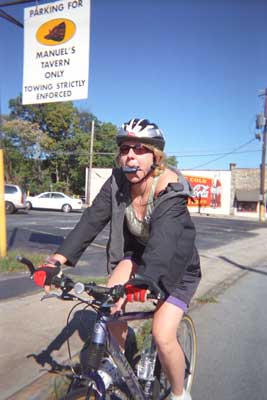 Gina listens to music in a most unique way – through her estuation tube,
while hanging with us along North Highland Ave.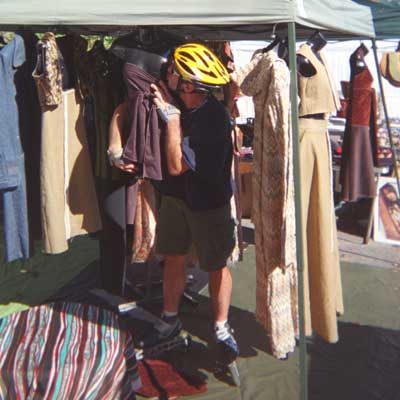 Marc's visit to Mr. Rogers' neighborhood. (Candler Park Arts Festival)