[Previous entry: "Zunday zleeper zkate (Zzz) - November 16, 2003"] [Main Index] [Next entry: "Zunday zleeper zkate (Zzz) - November 23, 2003"]
12/20/2003 Archived Entry: "Wednesday Night - November 19, 2003"
Our Skate, Skate, Skate
On Wednesday Night – November 19, 2003

Tonight was yet another gift from the skating gods to our thirsty souls. As if the evening had been carefully placed upon a silver platter for our wanting desires. But more realistically, the night had been chilled in an ornately handcrafted crystal vase and carefully poured into our warm, skater hearts. The equal mixture of warm hearts and chilled weather made skating under a precisely defined moon something of a religious experience. We might as well have taken a cold shower at the pool house, have run across the patio and around the lawn chairs, and leapt into the lukewarm pool to experience the warmest of spiritual sensations. The coolness of the weather was meaningless: the warmth of fellowship offered by fellow skaters – was universal.
Elizabeth D glided up to the alter like an angle during our gathering of worship at the Carter Center. "Listen up everyone, I have some announcements to make… Mark "Rickson" C, from New York, is joining us for the first time." The congregation then raised their communion glasses in the form of a holy toast. Also new in our congregation tonight was Joel (from Washington D.C. and everywhere else), who has become somewhat a nomadic skating spirit.
Father C. Little raised his voice in order to calm the baptism of our newborn. "There is a retreat up at Amicalola Falls this weekend," he announced from behind the pulpit in his stern, but soft & calming voice. Our congregation melted back into the wooden pews. We always feel at ease with his blessings. "Some are goin' up Friday Night – most Saturday mornin' – campin' – and then leavin' Sunday mid-morning / early afternoon." There was a big and boisterous "Amen!" that was shouted simultaneously from below the glowing colored glass of the elevated parking lot lamps. The cathedral ceiling reverberated our sense of pleasure and appeasement. We then passed the broken bread, knowing that Mark D would make at least one big meal for us.
Brother Ken O ushered an offering plate to the congregation. The donations were charitable to the beauty and heritage of Charleston, S.C. It was Sister Brenda C. who offered the biggest donation. "This is a weekend bike ride, but we can also skate it. Everything I've heard about this sounds absolutely awesome!" Our heads slowly rose-up from prayer as we now saw the golden light of Brenda's beaming smile and the halo of honesty & truth above her head.
The Charleston Bike Ride (December 5th , 6th , and 7th ) is also a camping trip. "Everyone at Claxton was raving about it," responded Brother Ken. For a donation of $55, we are to be fed four wholesome meals, provided free ground to warship during the night, and are given an ample amount of road to "Spiritually Guide Ourselves" in our praise to the skating gods. On Saturday, we can bike or skate anywhere from 30 to 100 miles (30 for the weak hearted and 100 for the more devout. Of course, we ALL should become devout skaters.) And once you've made it through the day, you'll be blessed with a fellowship party on Saturday night – which is an "oyster thinggy." (And don't forget – lots of oysters can mean lots of great love & spiritualness in an overcrowded sleeping bag.)
Not only is a traditional 40 mile worship service held on Sunday morning, but an informative Sunday School is also provided. The more informal Sunday school will teach us about the history and heritage of downtown Charleston. But you can bet on the farm and the skate gods that our spiritual hunger will grow stronger, cauz' we'll be able to tour culinary kitchens - - where our never completely satisfied souls will be educated with formal Charleston Cooking, as provided by some of the Charleston area's various chefs. Plus, while were over there, we'll be able to tour some kind of historical boat or arc (that's still floating), and even witness a parade of holy boats, that have not yet sunk. All of this for $55. Wow!!!
Our local congregation of skaters at the Carter Center Skater Worship Center (CCSWC) became at awe with all the blessed things that Brenda had to say about the Charleston event. It was much like a mystical revelation.
Also announced was information about the up & coming annual Turkey Roll – which will depart from the Freight Room (located in downtown Decatur) at 10:30AM, on Sunday, November 30th. Chuck O will lead a P2P skate, which will collaborate with the Turkey Roll. His P2P will depart from the Piedmont Park parking lot at 9:45AM. Regardless of either skating situation (or bring a bike if you wish), you will need to be at the Freight Room or at the parking lot in Piedmont Park prior to these times. And please be geared-up by these times, that we may all depart together – on time, that we may all eat at Stone Mountain Village together – for a long time. (Most likely, there will be a vehicle driven to the Stone Mountain Village, that we can opt to ride home if we become too full. Which is likely!)
Ann S led an intermediate skate tonight. Elizabeth D lead a handful of us on as spanky of a skate as you can imagine, and Paul K took everyone else over to Georgia Tech for SKATE SOCCER !!!

After stopping to retie my skate boot, I lost Elizabeth D's spanky group in the Grand Park area (you can imply that I got spanked), I eventually met up with Ann's intermediate group. I had been traveling solo, back and fourth on Ormond Street, practicing my sorry skating technique on the street's smooth pavement and gentle rolling hills. Compared with the small handful of speed skaters in Elizabeth's group, Ann's group was quite massive. They continued to trickle into the shady convenience store's small parking lot, at the intersection of Ormond and Capital Ave. "What a group!," I was pressed to think to myself. I was totally chilled-out and relaxed. The night was just too beautiful. And here were a whole bunch of most beautiful people on skates.
Eventually, they took-off, and up the Capital Ave hill, toward the Olympic Stadium/Turner Field. Lisa M, Chuck O, and I stayed behind. For the reason I just mentioned, we were soaking-in the entire atmosphere. All of it. And we couldn't get enough of it tonight!
While skating along side Lisa, up the Capital Ave hill, I turned toward her to candidly fire-off a digital photo. "Wait, wait a minute," she responded. "I'm not ready."

"What do you mean, 'I'm not ready'," I replied. "This is supposed to be a candid photo of you skating up the hill."
"Yea, but I want to show everyone that I'm working," she reported.
So I took the photo again. (Actually, I'd take her photo all day long, each and everyday, if I could.)

Skating up Piedmont Ave. (George W at right)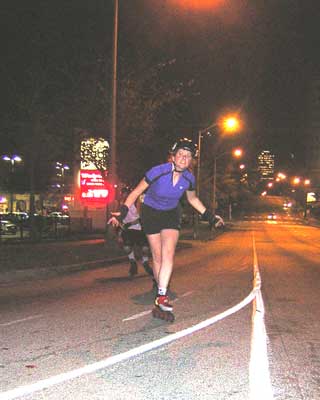 Lisa coming in for a landing off Piedmont Ave.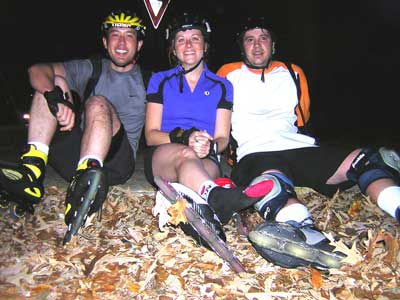 Tom S, Lisa M, and Mark C just outside Piedmont Park, on their way back to the Carter Center.