[Previous entry: "Turkey Roll - November 30, 2003"] [Main Index] [Next entry: "Zunday zleeper zkate (Zzz) - December 21, 2003"]
12/20/2003 Archived Entry: "Monday Night - December 15, 2003"
Our Skate, Skate, Skate
On Monday Night – December 15, 2003

In terms of winter, and considering it's been snowing in lots of other places, tonight was truly a wonderful skate-night. We'd had a fair amount of rain recently, but tonight, well, tonight we could see almost every star in the sky. And while in the Carter Center parking lot, I glanced over to the adjacent parking stall to see Don R begin to haul his equipment out the back of his covered pick-up truck. A star-like twinkle was in his eye (on the other side of his cosmic eyeglasses). It was a twinkle of ambition - - an ambition of a solid workout to come. A workout of his big, oversized wheels. Wheels that make Don shine like a star. And just below the constellation in his eyes, Don wore a smile that resembled a crescent moon. Well, sort'a like one. Don was in Heaven. (Or seemed ta' be.)
And across the parking lot aisle were David K and Paul B. And Allison B and Paula BP were there too. "What are you doing out here naked? And with no shoes or socks on?," Elizabeth D asked out loud as she walked toward me. (I was sitting on the semi-frozen asphalt and changing-out wheels, while only wearing spandex shorts and a sweatshirt – but removed the sweatshirt when I noticed her approaching me.) The temperature was in the mere low-30's, but that couldn't have bothered me much. I perhaps was thinking of how much warmer I was to be anchored to the Georgian earth, without much on, than if I were to be floating around somewhere in outer space, amongst the twinkling stars (which I've been doing a lot of for the past several weeks).
In a big, warm, white fleece pullover and black, curly hair flowing down onto the shoulders, Lori K stood before us during the announcements. She was here to tell us about the January 2nd Chick Fillet – Peach Bowl Parade that'll be televised on CBS for the first time ever. (She cried out... "yea!"... for all of us.) This means that APRR will be televised on CBS for the first time because Lori and new hubby, Russell, have provided us with an entry spot in the parade. Since this obligation has cost the newlyweds $150, it's being asked that those who attend the Parade to please reimburse Lori $5 per person. (Which I believe is not enough... As you and I know, she and her big heart are worth far more than a hundred times that.) Oh – and the sweet thing is, is that any money received above and beyond the pre-paid entry fee will be allocated to GIRSA.
If you DO wish to attend the Peach Bowl Parade (or are able to) - - please wear an APRR jersey or jacket. (There will be a "Sports Atlanta" theme!) And if you're indeed serious about attending, but don't have an APRR garment (YET !!!), please ask around - - and we'll get one for you to wear during this special, fun-filled occasion. Thanks Lori and Russell for all your time and help on this!!!
So, back to the gathering of tonight's skaters: there were a fair amount of us. The problem was, was that as Lori was talking, all of us became frozen. Our brains froze too. And when it came time to decide upon a skating leader, we learned that our tongs were even frozen. "Who wants to lead tonight?," called out Elizabeth D. No spoken words… only visible breath rising from noses and frozen open mouths.
Soon, Donald S spoke up by saying, "It can't be me leading because once I get out of the parking lot, I'm lost." None of us responded, or even looked at him. We were frozen.
"Okay, okay, I'll lead a group, but it'll be a beginner to intermediate group," gave in Lisa M. Good enough!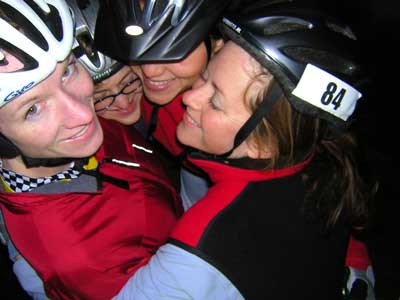 Beth D, Nancy G, Paula BP, and Lisa M try to stay warm
during the red light at N. Highland & Ponce de Leon avenues.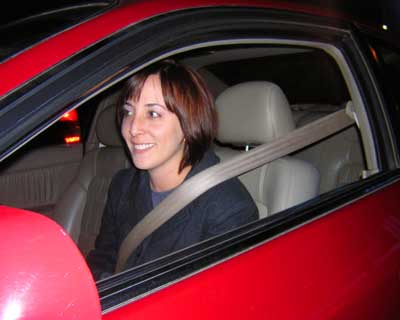 APRR's Kim watches out for skaters as she drives
her car along N. Highland Ave.

Lisa was beside herself. She could not believe that she had
just lead ALL the skaters down a steep hill on E. Morningside
and into a cul-de-sac. "This is my FIRST Dead End Street
– EVER !!!…," she emphasized to us. "I'm SOOO Embarrassed!"
Once back at the top of the hill, one of the skaters kindly
pointed out the Dead End sign to Lisa. She wanted nothing
more to do with the sign or that street. "The houses were
pretty though," she quietly mumbled to herself.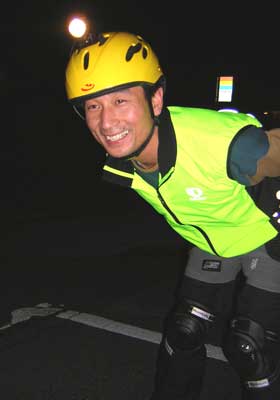 The camera hadn't even fired yet when Dr. Yong HT
started thanking me for taking his picture. I tell you
what, I've yet to meet someone as ambitious and loving
as Yong. He not only has tons of enthusiasm toward
skating and toward APRR, but he's more than wanting
to contribute his love of life to other people. Make no
mistake about it, Yong has a large, golden heart !