[Previous entry: "Monday Night - December 15, 2003"] [Main Index] [Next entry: "Shears"]
12/22/2003 Archived Entry: "Zunday zleeper zkate (Zzz) - December 21, 2003"
Our Zunday zleeper zkate (Zzz)
On Sunday Afternoon - December 21, 2003

The weather was pristine! Cool at first, but actively warming up. "I don't know if I should wear these sweatpants or not," exclaimed Chuck O (he's always worried how he looks). Jethro J was bundled up though. And you should have seen Allison B's leg warmers. They were candy apple red Christmas stockings with the brilliant white fluffy stuff at the top. However, most of us were wearing gloves of one type or another (bicycle, ski, whatever worked)
"My gloves have nylon on the outside," noted Allison. "They're used to grip a ski pole. See these two white strips are nylon. I spent $50 bucks on them."
Mims and his wife of beauty were with us too, but no skates were on their feet. "I know it's hard to recognize us," mentioned Jenny. "But we're not skating this morning. We're just goin' to hang-out here in the Park. Diversity is a healthy thing." Mims must have been in on the same bizarre plan because he seemed to be just as happy as Jenny. Jenny seemed to be in a VERY happy mood.
After showing us his Christmas present to himself (a digital camera from Target or Walmart or someplace like that) Chuck gathered the Zunday zleeping zkaters for a ztroll through the zurroundings. "We're going to Caribou at Piedmont & Monroe and then onto the Ansley residential area… Okay, Lets Roll !!!" And the next thing we knew, Chuck had taken off. (But he was wearing a fluorescent green/yellow jacket - - and wasn't hard to find.)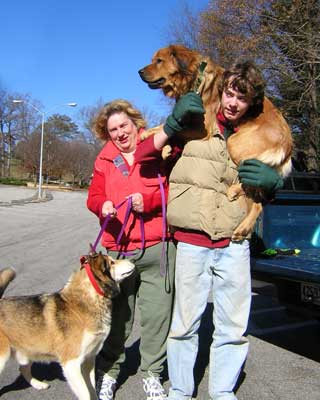 Charlie and Merlin are two of the many dogs that were in
Piedmont Park today. Everywhere we looked, there were
dogs. "Merlin loves to be carried like this," vouched the
young gentleman for his dog. "I carried him like this once
a couple years ago, and now everywhere I go, he likes to
be carried like this."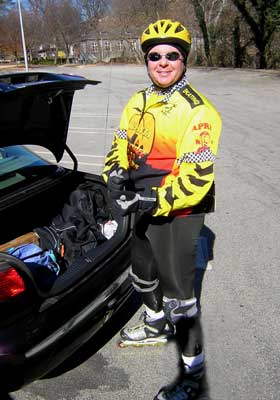 Jethro says: "I'm flexing. Can you see my flex?"
(I had accidentally left the magnifying glass at home - -
so I couldn't really tell.)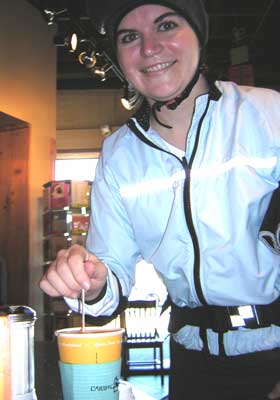 Allison B & her hot chocolate.
It didn't take long to get to Caribou at Piedmont & Monroe.
Everything's downhill when you think in terms of getting
coffee or hot chocolate.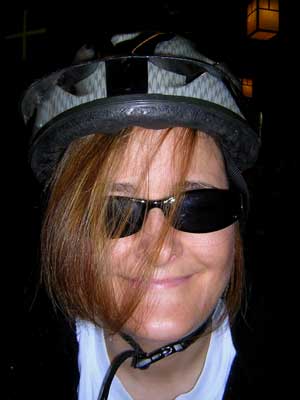 Ann S.
Actually, her hair was something like this (but not to this
extent) and she took off her helmet and brushed it neatly
back behind her ear with one of her fingers – before placing
her helmet back on. "No, wait, wait, it looked so pretty the
way it was," I assured her. "Put it back the way it was so
I can take a picture of how pretty you looked." So she did.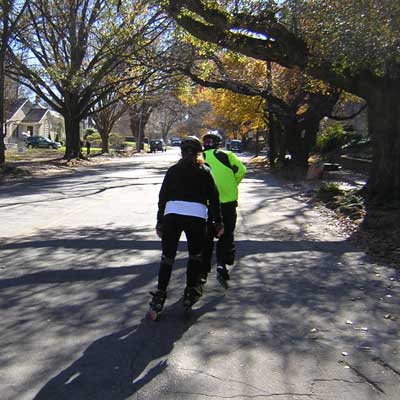 Ann & Chuck in the Ansley residential
area, on a most lovely Sunday afternoon.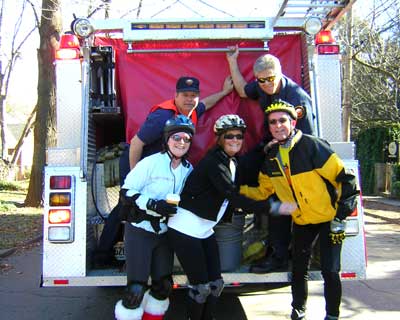 Allison, Ann, and George W & The Fire Boyz, just off
Lanier Blvd.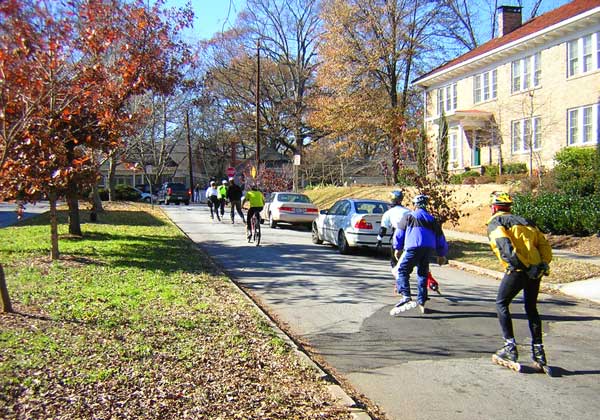 Finishing off Lanier Ave. and heading left onto
N. Highland Ave.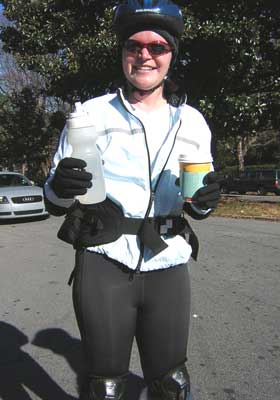 Once we got to North Highland, after traveling the length
of Lanier, our leader, Chuck, noticed that one of his skaters,
Allison, was actually double fisted.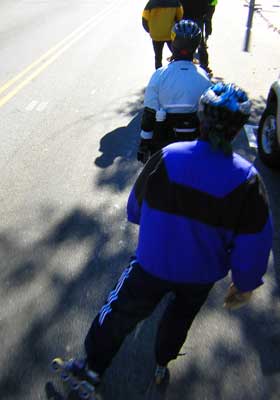 Skaters on North Highland Ave.
(Jim M, Allison, George, Ken O, and Chuck)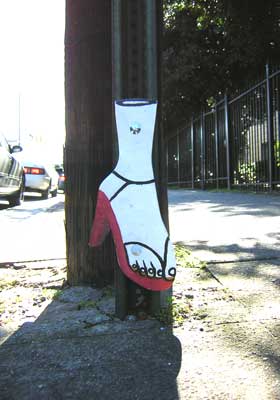 The "foot" of a "Blind Person Crossing The Street"
type yield sign at North Highland & Ponce de Leon
avenues.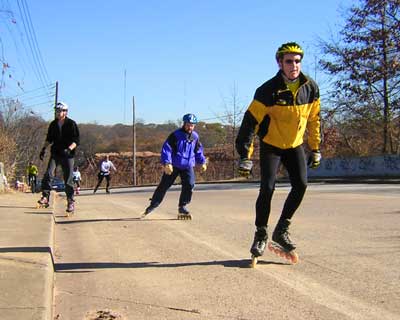 Making progress up the long and steep N. Highland hill.
(George, Ken, Jim, Paul H, Allison, and Ann)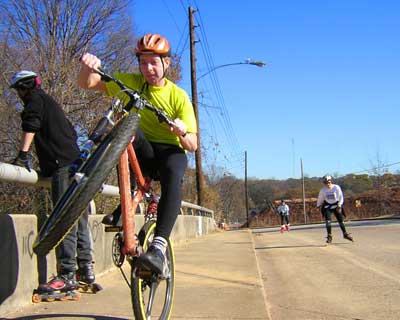 APRR's Paul H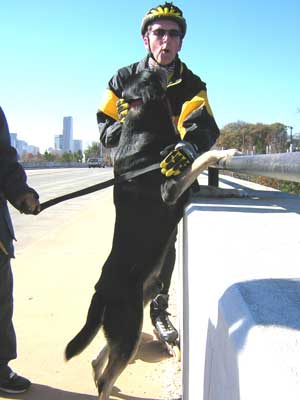 May I present to you "Shabaz!"
Shabaz was more than happy to see George.
Shabaz's owner was less than happy to see
Shabaz jumping up against the dangerous side
railing of the N. Highland Ave. overpass of
Freedom Parkway.
Shabaz was more happy than George, because
George was almost pushed up and over the side
railing of the N. Highland Ave. overpass, and
smack onto Freedom Parkway.
I was just happy to get the photo of Shabaz
being so happy with APRR..
He'd probably make a good APRR candidate.
We're all happy… right???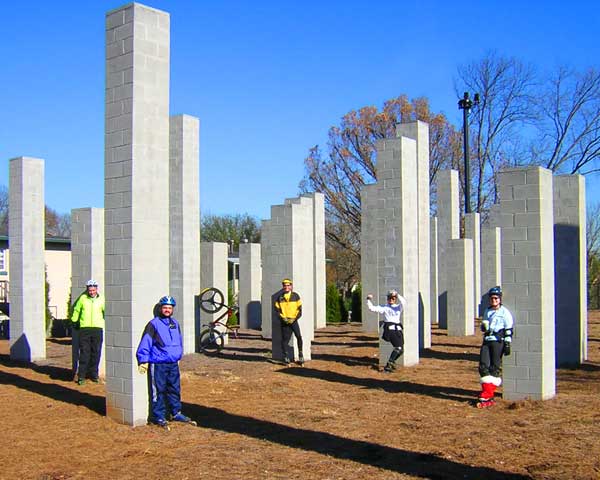 Livening-up an otherwise stupid form of art made
from CMU blocks. (At first I thought this was an
abandoned construction site, but then I realized that
the former mayor had probably paid someone a lot
of money for it. - - or would it have been the other
way around?)
(Chuck, Jim, Paul's bicycle, George, Ann, and Allison)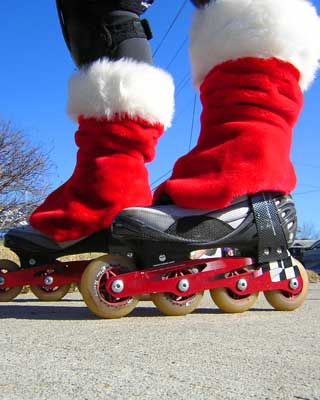 Some Christmas spirit.
"…these really aren't leg warmers, although some
people think they are. They're actually Christmas
stockings that I cut the bottom out of. They help
make me look like I'm in the Christmas spirit…
Do you like them?"

Some more Christmas spirit.
(… and deep within her, she's got lots!!!)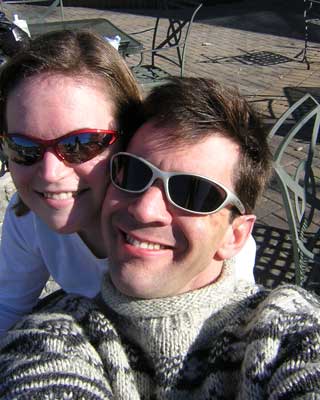 Allison and I at the Piedmont Park Tavern.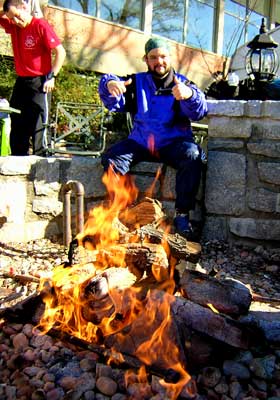 Jim getting roasted.
I mean, toasted.
I mean, tasting a good time.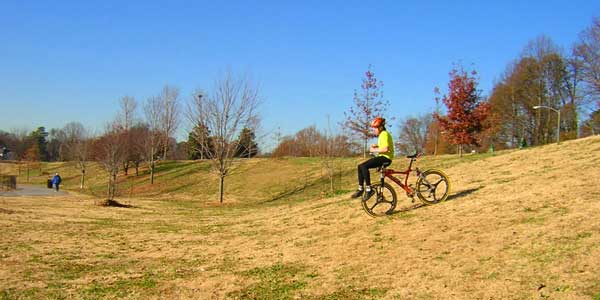 Paul H in his own, unique element.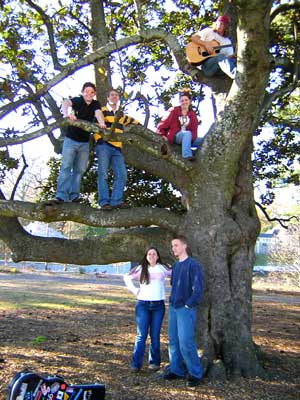 The "Magnolia Tree Band,"
as discovered in Piedmont Park.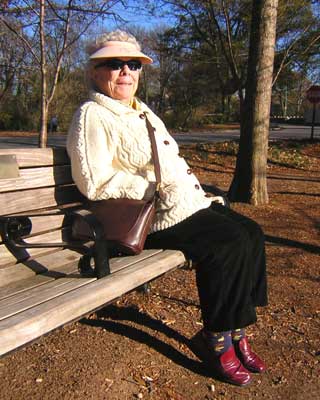 A very kind lady, enjoying the afternoon
in Piedmont Park. "Mam, may I take your
picture?," I asked.
"Why… Sure… You… May," she said, with
the same, pleasant smile that you now see
on her face.