[Previous entry: "Shears"] [Main Index] [Next entry: "APRR On Ice - December 12, 2003"]
12/25/2003 Archived Entry: "APRR Camping Trip - November 19, 2003"
Our Camping Trip Up At Amicalola Falls, GA
On November 19-21, 2003
By Mark R

APRR's annual camping trip to Amicalola Falls on the weekend of November 21st was a great success! It was especially memorable from all the hard work, preparation, and camping gear that both Mark D and others had put into the outing. Helping hands provided everything from the luxurious kitchen setup to the evenly sawed, split, and stacked seasoned wood. The weekend turned out to be one fantastic camping experience!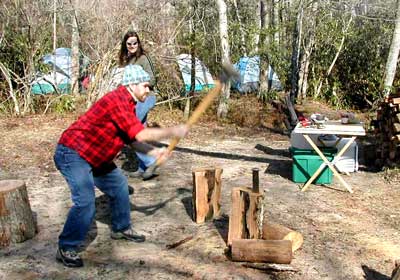 Guest appearance at the camp site: Paul Bunyan.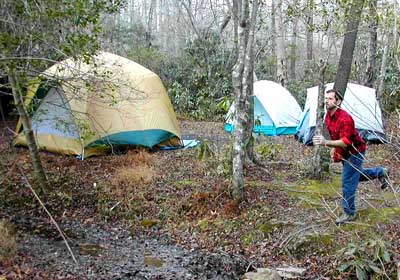 Bill suspended as if he was posing for this picture.
Did he fall into the creek?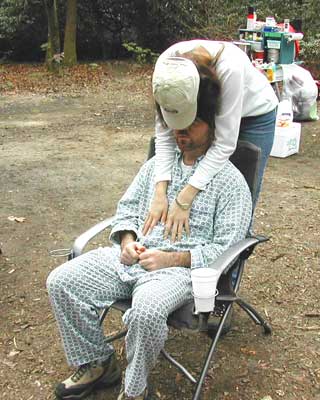 Obviously someone liked Bill B's PJ's!
"Where is it that I can get a sexy pair
like that? If I wear jammies like that,
will I get the same attention?"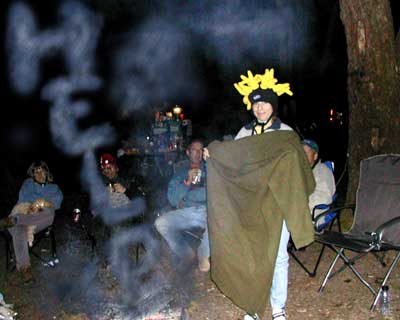 Brenda, who initially served as the fire council president
(as evident by the fire council headdress) attempts to
send smoke signals to neighboring campers. Not only did
the rest of the council not know what the signals meant,
it was night – and dark out. "Brenda, can you wait and
send the signals in the morning? Besides, we don't yet
have food prepared for all our neighbors."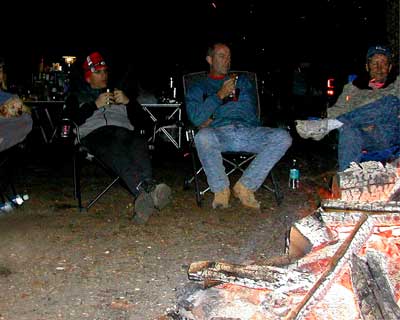 Despite the cold temperature, the warmth of the fire drew
us all close together. Not too close – as the fire was almost
always roaring. In fact, we could feel cold air rushing around
our ankles as the fire drew oxygen to sustain itself. For fun,
we tossed several wine bottles into the roaring fire pit. The
glass melted within minutes after being introduced to the hot
blaze. Can you say, "800 degrees plus!!!"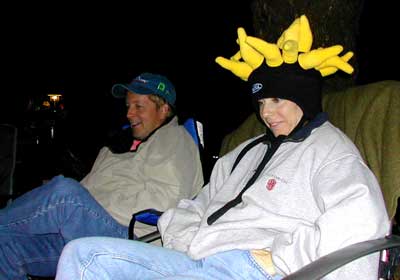 Fire council president, Brenda, and voting council member,
George, admire the magnificent fire.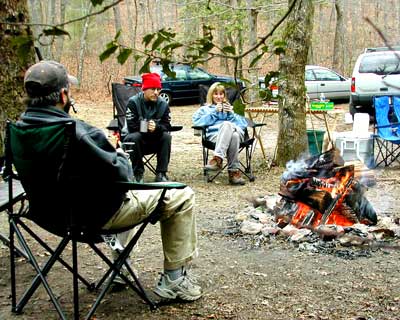 With a scant amount of firewood remaining, the fire council
decided to sacrifice the remaining fuel to the morning fire.
It helped take the chill from the morning air. Last night's
fire council grand-pubar was no where to be seen.

Supporting the theory: "If it burns you once on the way
down, it will surely burn you a second time!" Mark D's
Five Alarm Chili made a great breakfast dish; although,
one brave soul had three helpings for dinner (Mark R.).
You had to taste it to believe just how hot it was.
Great job Mark D!!!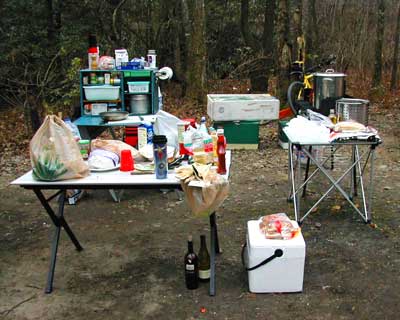 Complete with paper towel holder, this is the ultimate
camping kitchen setup. It was obvious that Mark has
done this before. In fact, I think some of this gear
was handed down from previous Day generations.
The four-course breakfast was delicious!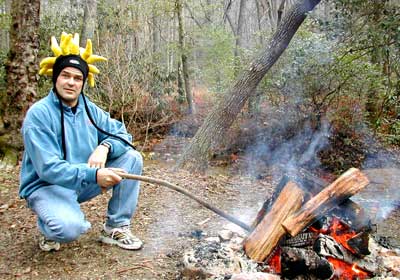 "Who put this log here? Did I, the self-appointed fire
council president, authorize this log placement?…
Do you notice the significance of my hat?"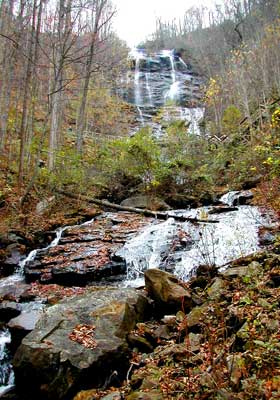 Spectacular Amicalola Falls!
(Located just west of Dahlonega, GA.)