[Previous entry: "APRR Camping Trip - November 19, 2003"] [Main Index] [Next entry: "Who Is APRR ??? - December 25, 2003"]
12/25/2003 Archived Entry: "APRR On Ice - December 12, 2003"
Our Ice Skating Adventure
On Friday Night - December 12, 2003
(Photos and captions by Mark R)

Mark R invited all of APRR to "The Cooler," in Alpharetta, GA for what just may be the first annual, official APRR ice skating event. Many of APRR wanted to know if Alpharetta was still within Georgia. Although a few of us live in the area, a number of APRR considered traveling to the suburb to be more or less a weekend road trip. Most everyone was happy to learn that the prospering Roswell/Alpharetta area was not quite as far away as Dahlonega or even Tennessee.
There were 25-30 APRR inline skaters on blades that Saturday night. It was quite obvious that a few of these skaters had been on ice before, perhaps fairly recently. But no one showed us up like Mark R did. He was more or less like a zooming, zigzagging electron, bouncing off atomic walls. But unlike all the other electrons spinning around the large ice rink, Mark was capable of coming to an immediate and abrupt stop. Ice would spray all over the place. Skating, both on asphalt and on ice, is quite obviously Mark's niche.
Hitting the rink and skating in a continuous counter-clockwise circle seemed a little monotonous after a while, but I would've been hard pressed to get any of those attending to vouch that they weren't having a marvelously cool time. We then celebrated what seemed to be Donald S's 30th B-day at the nearby Bahama Breeze restaurant.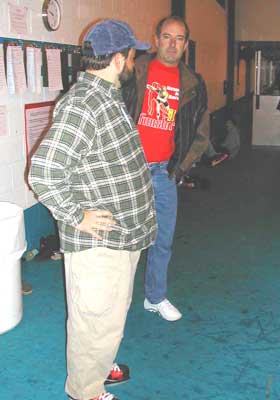 Mark D trying to decide if he should join Jim and the
rest of the skaters on the ice. Mark offered a point
that skating from point "A" to point "B" is much more
fun than always skating in the same circle.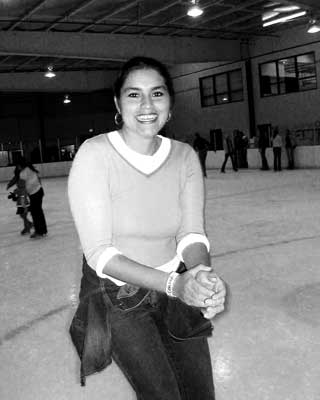 This smile should be enough to convince anyone
that ice-skating can be a whole lot of fun. Paula BP
was enjoying herself so much, laughing so much,
that she complained her abs were sore! You go girl !!!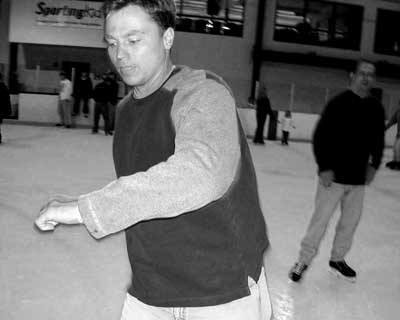 Dude reel that tongue back in. Carl, you're doing
great on the ice!!!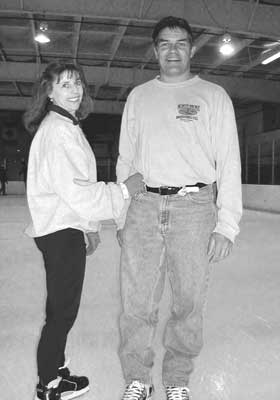 Brenda C was happy to have a firm grasp on "the Iceman."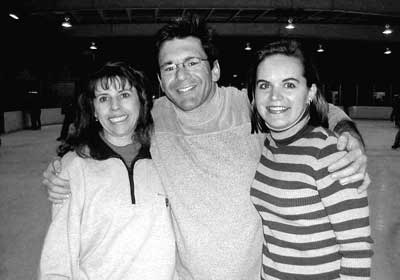 Brenda, Marc, and Allison B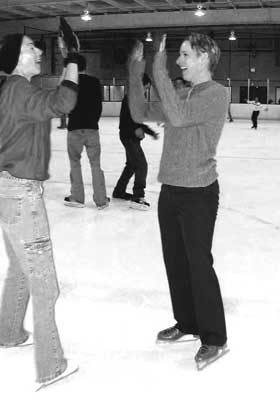 Elizabeth D celebrates her three turn spin with Cindy S.
"How did you like that move!!!," joyously exclaimed
Elizabeth. In turn, Cindy had been showing off her stuff
at center ice, in the face off circle.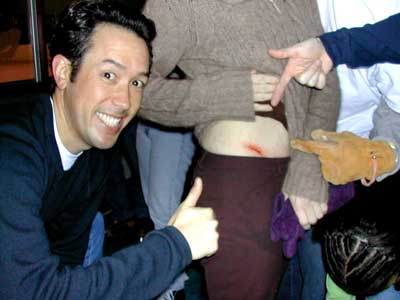 Despite the assurances that you could not get road rash,
Elizabeth managed to stick herself with her own skates.
The tummy rash wasn't the only place that Elizabeth
managed to hurt herself. Keeping the APRR Road Rash
Full Disclosure policy Elizabeth bared all.