[Previous entry: "Christmas Lights Skate - December 22, 2003"] [Main Index] [Next entry: "New Years Eve - December 30, 2003-January 1, 2004"]
01/04/2004 Archived Entry: "Zunday zleeper zkate (Zzz) - December 28, 2003 (Part 2 of 2)"
Our Zunday zleeper zkate (Zzz)
On Sunday – December 28, 2003
(Part 2 of 2)

Ahh yes, zkatin' on Zunday – thuah zway taz goz!
Zleep lotz, zen wakezzz up, and zee zun zhine ztream in.
Zen goz zkatin' zince itz ahaz zunny Zunday!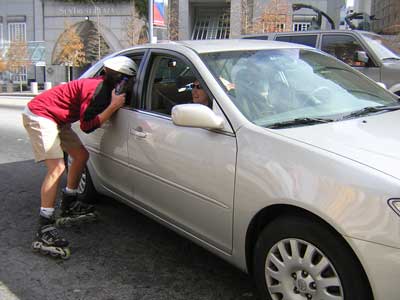 Mims obstructing Peachtree Street traffic.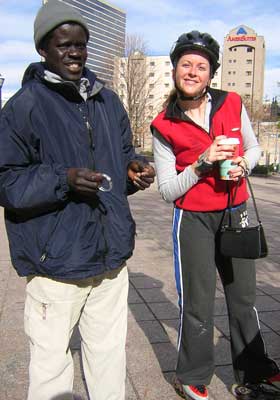 Lisa found a treasure of purses in Hardy Ivy Park.
She found one that she liked. Then she found one
that she liked equally well. Then a third.
"For $20, they're good knock-offs," she vouched
to me.
I asked her which one she liked best, thinking I'd
come back and offer the guy $5 or $6 for it. (I had
no cash at the time.)
"Oh, I like all three. I'll just come back and get
them later," she said to the man and me. "I really
do like them."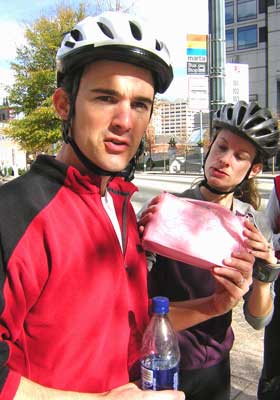 Mims also saw the purses as a treasure and found
one that he liked too. Jenny made sure to look into
the quality of Mim's favorite purse. You never know
about those purses made in Taiwan.

Allison B in Hardy Ivy Park, just off
Peachtree Street.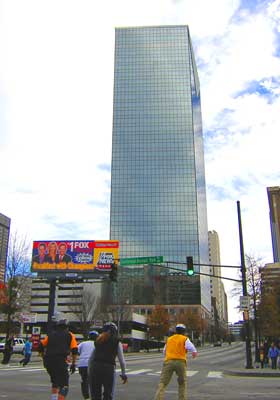 The skaters made their way through
Olympic Park and to the CNN Center.
They were then seen skating down
Marietta Street, toward downtown Atl.

Chuck O and Lisa M on Marietta.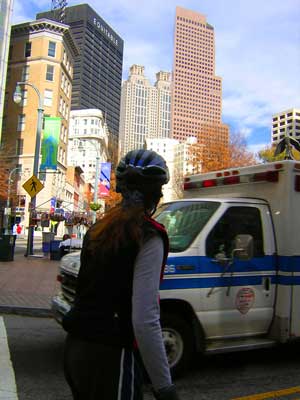 Lisa discovering a whole new stash of
purses in Woodruff Park. To Lisa, parks
became synonymous with purses.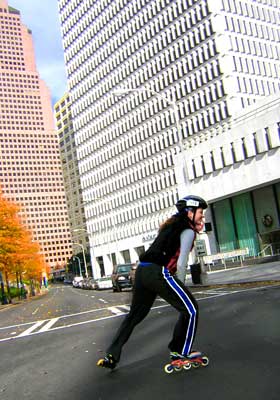 Atlanta's Urban Skate Goddess.
She's like no other!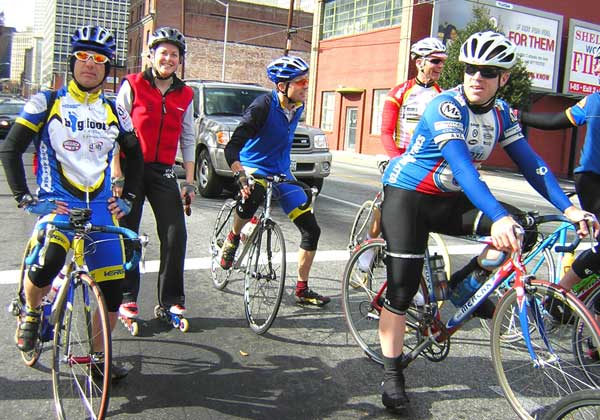 The Skate Goddess w/ Bruce B & other Sunday Airport Ride cyclists.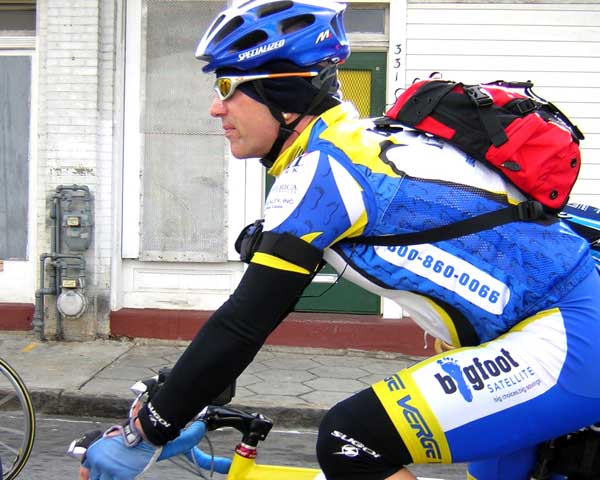 Bruce B.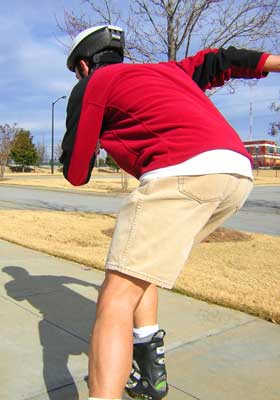 Mims en route to Jake's Ice Creams
& Sorbets.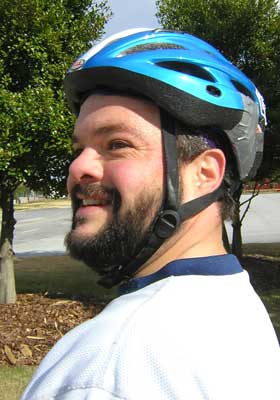 Jim M.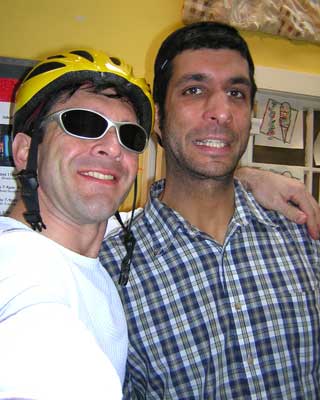 Marc's old friend, Tim, at Jake's.
Tim's the one who helped to serve
us the much needed ice cream.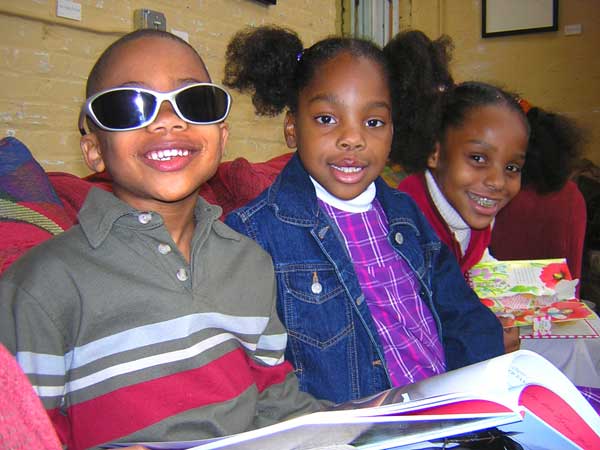 These three were precious.
They loved the fact that we were on roller skates.
The boy went even further and announced that
my cheep sunglasses were "way cool."
I couldn't help but to let him wear them for a while.
(If I had them with me, I'd probably have given him
my $250 polarized Oakleys. I sat on them just a few
days after purchasing them. They're now a mangled
mess. Nah, the only place those sunglasses can go
is in my bad memories file.)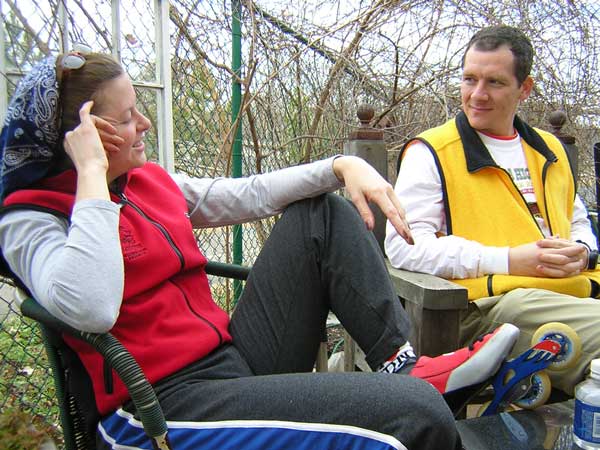 At Jake's: Photo #1 in series.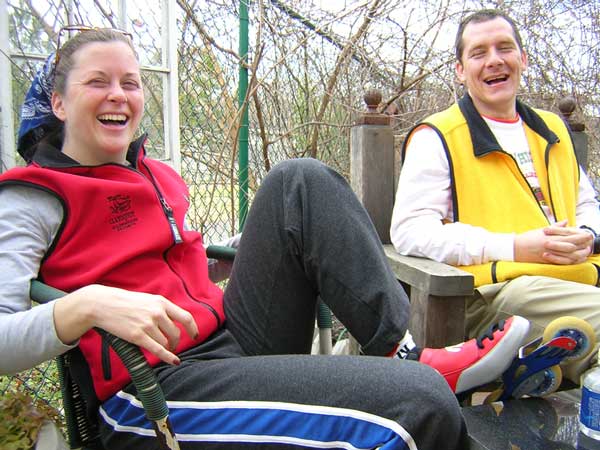 Photo #2 in series.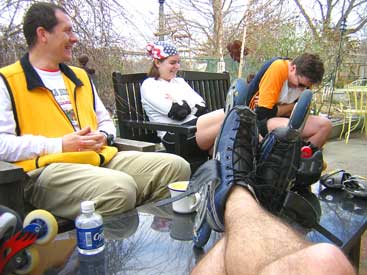 Photos #3 - #5 in series.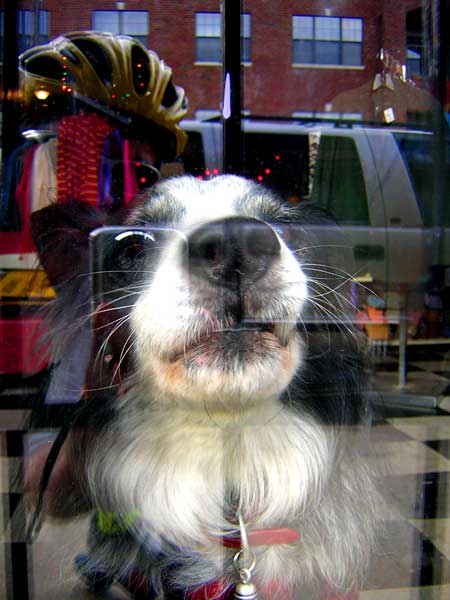 The cute Cocker Spaniel next door.