[Previous entry: "Peach Bowl Parade (Part II) - January 2, 2004"] [Main Index] [Next entry: "P2P on Saturday Morning - February 21, 2004"]
02/21/2004 Archived Entry: "Wednesday Night - February 18, 2004"
Our Skate, Skate, Skate
On Wednesday Night - February 18, 2004

"It's such a beautiful night, how can anyone NOT come out tonight?," Chuck O asked out loud.
He didn't have to say much: cars continued to stream into the Carter Center parking lot. Throughout the day at my work, I'd been looking out a window in the architecture company's colonial looking building. With no clouds in the sky for a change, the sun bleached through the barren trees, finding its way in between the blinds of our colonial looking double hung windows. I felt as if in a bird cage while at work today, listening to Navy F-18's scream immediately overhead on final approach to the long runway at Naval Air Station-Atlanta & Dobbins Air Force Base. Then, moments later, the building would rumble from huge C-5 B's, brand new C-130 J's and the Air Force's yet to be released F-22 Rapture fighter aircraft. They brushed against the colonial type shingles on our rooftop during their continuous chase of each other in relentless touch-and-go loops - - all day long.
If they could have fun in the sun - - why couldn't I?
My layout and design of a new Gold's Gym flickered on my computer screen. My arms throbbed from working-out at one of the LA Fitness gyms the night before. Crying were my legs - - to be back in my skates. Like a cowboy on a saddle, or cold coffee in my dirty, sticky mug. So where was my mind? It was racing forward in time, faster than the F-15 E's and F/A-18 E's cracking through the sound barrier somewhere above my throbbing head. My mind was racing toward the anticipated beautiful evening. It was racing toward an expected skating bliss.
--
I was found sitting on the warmer than normal Carter Center parking lot asphalt, rotating wheels and such, when a soft kiss came to the top of my head from behind me. It was Elizabeth D secretly introducing herself to me. It was obvious that she was in a good mood too. And so was Caroline B, who offered that I'd be welcome to skate with her from Piedmont Park to Stone Mountain this coming Saturday morning at 9:00 AM, provided I'm on time (which only rarely happens... if ever at all). Ann S gave me one of the best bear hugs I've had in a long time. So, apparently, she was in a good mood. And then there was APRR's newest skater, Kei le M (pronounced as 'Kaylee'). Kei le was excited because her newly made friend from church, Angela H, was also joining us tonight.
If the women were happy, then so were the guys. Tom S was happy that Lisa M was able to make use of her badly injured knee, and tag along with him on her mountain bike. His roommate, John, was happy that Kei le was close by and laughing with him and smiling. I was happy that Angela had come up from Peachtree City to meet me. Yong HT was happy because, well, that's just the way he is. David K was happier than normal (similar to Yong, being happy is simply David's nature). And we were all happy to see Paul M back with us tonight.
After taking a hiking backpack off her shoulders (Elizabeth D thinks that she's going to survive a three-week APRR European Skating Trip "Euro-Roll" with a simple backpack), she called us to attention. However, without Mark D's stern voice, it took a while for the chatter to subside. (It never really did.) And speaking of Mark D, we now have an explicit plan to hunt him down, kidnap him, and bring him back within the APRR family circle - - where he justly belongs.
--
With Kei le around, it was obvious to Elizabeth that Chuck O would be leading a slower skate. "Who's going on a slower skate with Chuck?," she asked all of us.
"Nope. This will be a beginner skate," was his reply.
It was during the previous Monday that I was so looking forward to continuing a beginner skate on behalf of Kei le. One week before, Kei le showed up at the Carter Center for the first time. (Chuck, Ann S, and I first saw her in her car during our Zunday zleeper zkate (Zzz). We had been sleeping while skating, but quickly woke up upon discovering her.) "You've got to come out and skate with us," Ann said to her.
"Where can I go to rent skates? I've only skated once before and it was a complete disaster! How many are in your group? I'm new here and I want to meet people!"
"We'll take care of you," I said.
She showed up to the Monday Night Skate that next evening. I showed up with a brand new pair of K2 skates, wrist guards, kneepads, elbow pads, helmet, etc. For an hour and a half, I taught her everything I knew about skating safely (which based upon my history of high-speed crashes and idiotic maneuvers into crowds of people - - the soundness of my advise was very limited). It rained on Wednesday. But by the following Monday, she was back. And so was my thumping heart. I was dearly looking forward to another session of one-on-one tutorial of holding her hand and helping her to feel secure.
"Oh Kei le, it's so nice to see you here. Welcome!," exclaimed Chuck when his eyes initially fell upon her this past Monday night. "Who wants to go with us on a Beginner Skate???," he asked moments later during the group announcements to the somewhat large group. Chuck's offer was torture to my ears. All my expectations for the evening went into disarray. My thumping heart instantly went kaput.
All of the guys in the group eagerly raised their hand.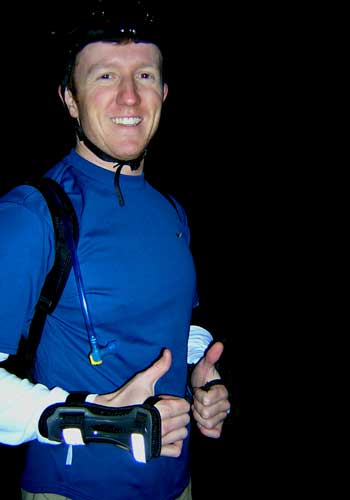 John gives us a thumbs-up that he doesn't
need to fly a jet tonight. Having wheels on
your feet is so much more exhilarating.

-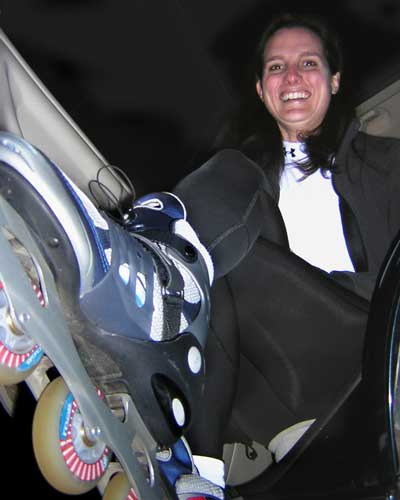 Jennifer H thinks it's a hoot that I actually
got under her skate to make this image.
She was in the process of tying her boot,
but I must have disturbed her concentration.

-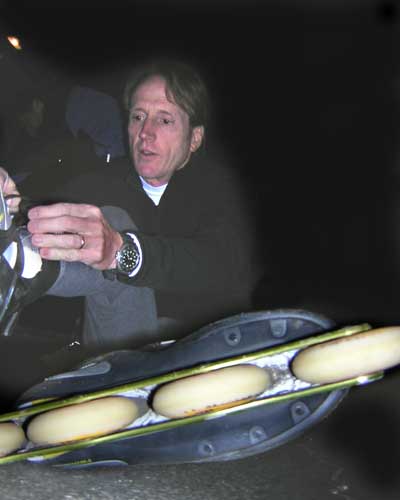 Robert B puts the final touches on what he
considers to be a perfect bow in the lace
of his right skate boot.

-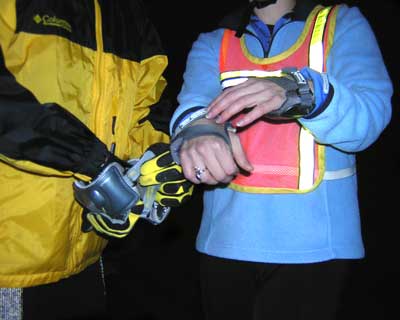 George W and Anne S adjust their wrist
sliders. You'd think it was cold, but the
temperature was actually very pleasant.

-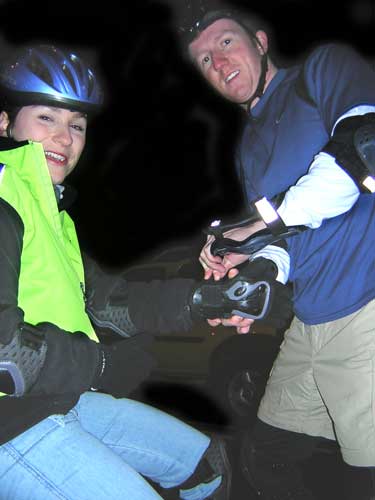 Kei le gets some tender loving assistance
from John. (She's still learning how to skate,
and how the Velcro attaches to itself.)

-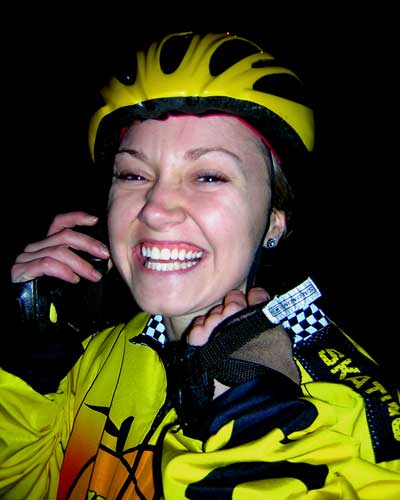 And a warm and reverend welcome to Angela H,
from Peachtree City. After she had put all my
stuff on, I discovered she looked just like me.

-

Mark R can borrow Brenda; but I'll always claim her as my own.

-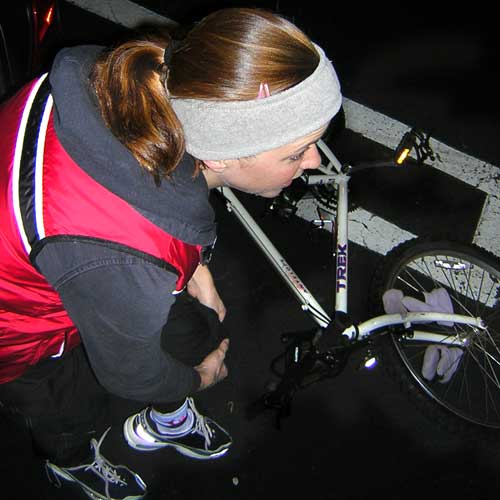 The image of Lisa crashing in the middle of a street near
Emory University has been burned into my mind. There was
no moon light that night and the street was very dark.
Unknown to us, there were a series of confined bumps in
the middle of the particular street that we were on. We
had just come off a long hill, so we were traveling relatively
fast. Lisa may have been in the middle of our group, but she
was a few yards in front of me. I watched her darkened
silhouette twist sideways and go down. I watched her slide
uncontrollably along the street. I clearly heard her fall.
Had I been immediately beside her or even behind her, I
now know in clarity that I would have instinctively grabbed
onto her jacket collar. I would've tried to prevent her from
reaching the ground. I was simply too far away. The thought
still goes through my mind.
Lisa is seen here adjusting her knee brace. She's unsure if
she wants to undergo optional knee surgery. But she knows
that those bumps have caused her lots of discomfort and
pain. She's been riding her mountain bike as part of much
needed physical therapy.

-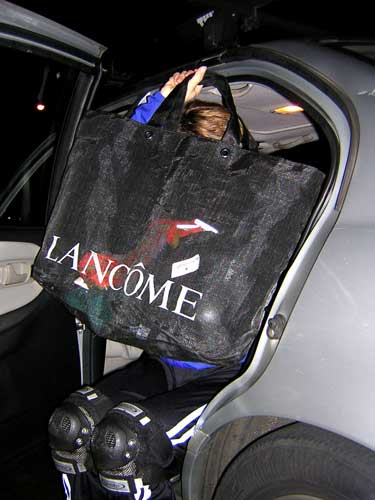 Nancy G getting ready.
I'm not going to go as far as calling her a "bag
lady." But come on Nancy, what woman needs
to be inside a shopping bag to get ready?

-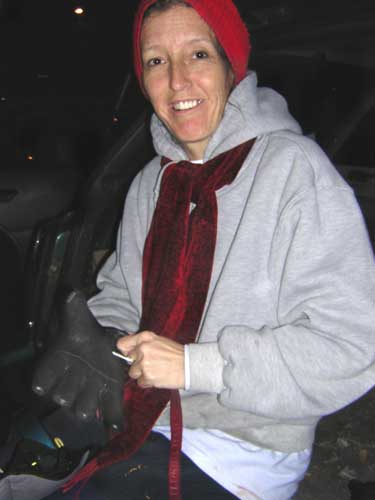 Stephanie R getting ready for any cold weather
that may come her way.

-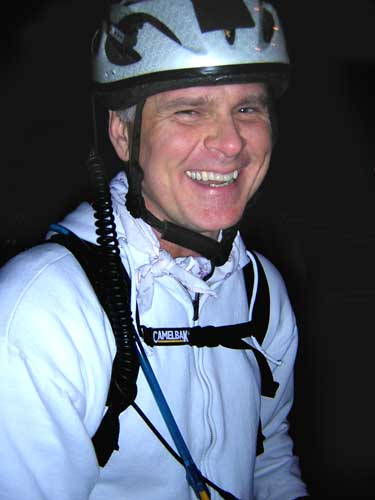 Okay, I mentioned above that David was in
a good mood. This photo, as being typical of
him, proves my point.

-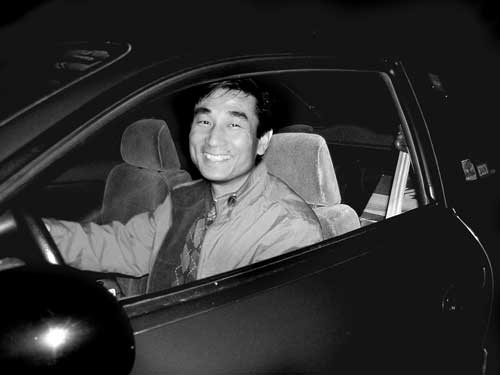 Yong HT arrived LATE !!!
So late that he had to succumb to joining the Beginner Skate
with Chuck and I. Yong spent the vast majority of his time
with the hottie – Angela.

-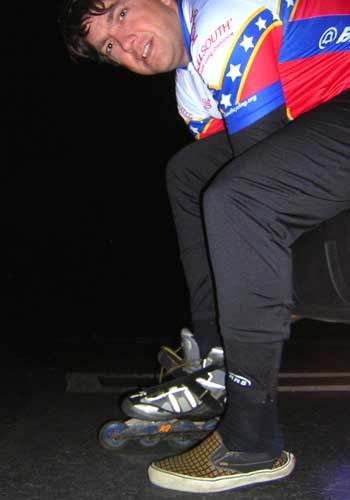 Getting ready for the Big Night on town.
(please email his name to me that I may
change this text.)

-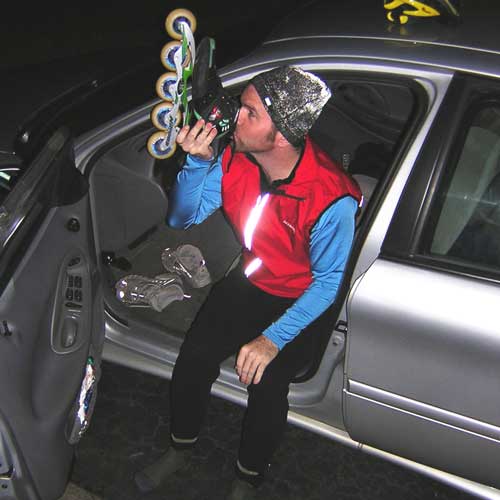 Bill drinking-up the last of the 'spirits' before hitting
the road on his spirited skates.

-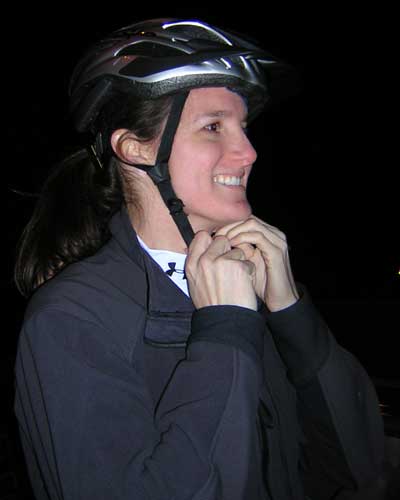 Jennifer making final preparations.

-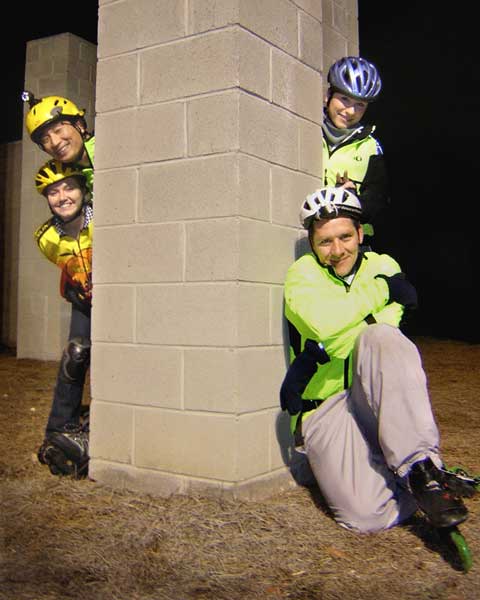 Our beginner skate group.
Something tells me that Chuck's grown rabbit ears !
(Angela and Yong –Chuck and Kei le)

-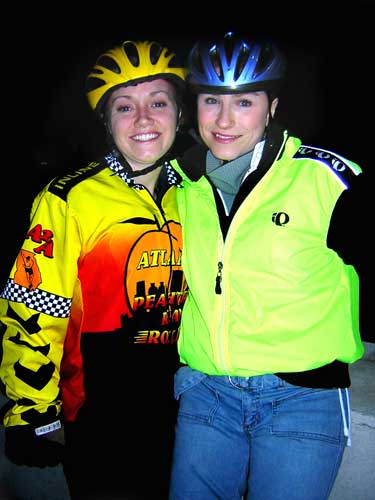 Angela & Kei le

-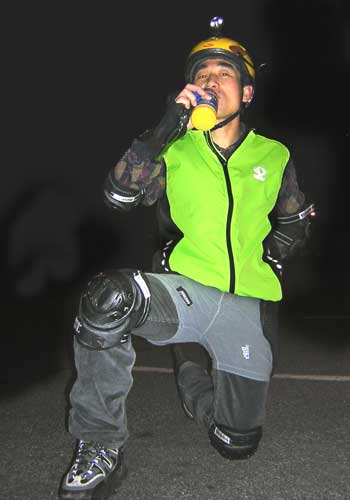 Our assistant teacher, Yong, also takes a
needed break.

-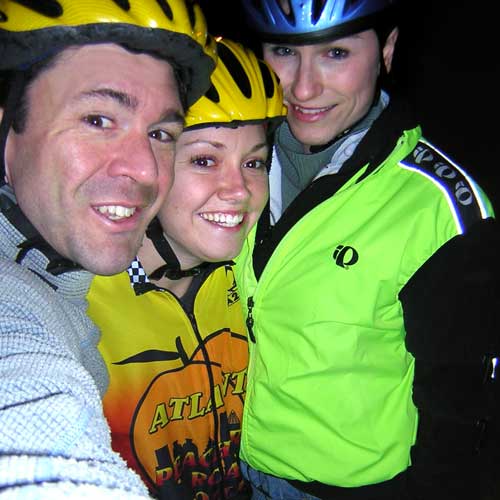 The students of APRR's Skate School.
(Myself, Angela, Kei le)

-

Yong HT
Replies: 1 Comment
Always like to see what`s going on at your place.Look`s like you having lot`s of fun.
Wish I could join you some time and skate along with you.
From a friend overseas,
Karin
Posted by Karin Mc Craner @ 02/21/2004 04:32 PM EDT